Will 2016 Be a Record Year for Bitcoin?
Prices of the cryptocurrency are expected to reach a record high next year.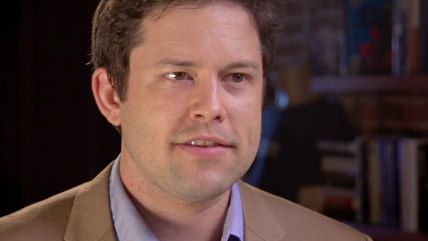 A slow down in the growth of the money supply could push the price of Bitcoin to record highs next year. The web-based currency—which has been pitched as money of the future—is set to rise in price due to adjustments in the reward structure for mining set to go into effect in July.
As Reuters reports:
"[T]he price of bitcoin could test its 2013 highs of above $1,100 next year and then pick up speed to rise to $4,400 by the end of 2017.

That would be due to a number of factors… including an increased acceptance of payments in bitcoin by big companies and authorities, rapidly growing interest and investment in the "blockchain" technology that underpins bitcoin transactions, and also more demand from China as its currency weakens and the economy slows."
In August, Reason TV sat down with New York Times reporter Nathaniel Popper to discuss Bitcoin's rise and how libertarians have kept the dream of the decentralized currency alive.
"People were telling the libertarians to shut up," says New York Times reporter Nathaniel Popper, "but they were the only ones willing to put their money on the line and keep Bitcoin alive."

Popper's new book, Digital Gold: Bitcoin and the Inside Story of the Misfits and Millionaires Trying to Reinvent Money, tells the story of how the "cryptocurrency" went from an idea sketched out by an anonymous programmer in a nine-page whitepaper in the summer of 2008 to a global phenomenon with multi-million-dollar investments staked on its potential.

Some believe Bitcoin will be as transformative as the Internet itself while others—including many governments and traditional investors and analysts—see it as a threat or scam that should be shutdown or heavily regulated.

Reason TV's Nick Gillespie sat down with Popper to talk about rise of Bitcoin and its underlying blockchain technology, which advocates say has virtually unlimited application.

The topics they covered include:

How radical libertarians championed Bitcoin and kept the technology alive when nobody else was paying attention (2:50)
How libertarians clashed with another faction of early Bitcoin champions, who worried that ideological posturing could hurt its chances of wide adoption (5:27)
Whether Wall Street banks, the very firms Bitcoin was meant to route around, has co-opted this technology (7:27)
How Bitcoin is being used as currency in Argentina (10:57)
The evidence that convicted Silk Road founder Ross Ulbricht engaged in murder-for-hire (13:52)
The startup OpenBazaar and the ongoing decentralization of commerce (16:30)

Whether Bitcoin is truly here to stay. (18:30)