Ho! Ho! Ho! Get Your Ass in That Body Scanner, Santa!
Right before the holidays, TSA changes the rules to stop some from opting for pat-downs.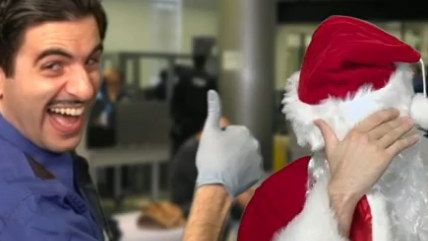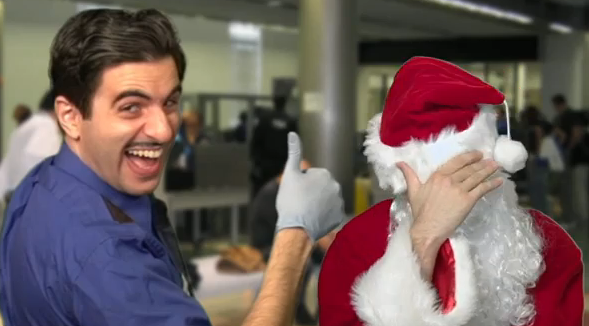 Prepare to be body-scanned, holiday travelers. Oh, you think you're going to opt out in favor of a less-intrusive pat-down? Think again.
Quietly, on December 18, the Department of Homeland Security (DHS) announced a change of the rules for the use of body scanning technology at airport security systems across the country. Now, the Transportation Security Administration (TSA) can opt out of letting you opt out of using the body scanners. That is to say, they can decide—for reasons!—that you must go through the body scanners. Julia Angwin, an investigative reporter from ProPublica, made note of the rule change last night on Twitter. From the newly published rules:
"While passengers may generally decline [Advanced Imaging Technology] AIT screening in favor of a physical screening, TSA may direct mandatory AIT screening for some passengers as warranted by security considerations in order to safeguard transportation security."
The report does not indicate what sort of "security considerations" may prompt the TSA to decide who may or may not opt out of screenings, so add yet another element of pure randomness to your adventures through security theater. The DHS makes sure to repeatedly point out, though, that the body scanners are no longer showing your naked bodies, but generic images with any locations of anything that scans as unusual highlighted for further review.
Mind you, the TSA is being sued by the Competitive Enterprise Institute (CEI), the National Center of Transgender Equality, and the Rutherford Institute because they've deployed these body scanners before completing their federal rule-making process in the first place. This new documentation notes that the TSA "expects" to publish its final rules on the use of the body scanner machines in 2016, years after they started using them.
In September, Reason (and many other media outlets) made note of the humiliating experience of Shadi Petosky, a transgender television writer and producer (her cartoon, Danger & Eggs, was just picked up by Amazon) who got caught up and humiliated by TSA employees who did not know how to react to the difference between her female appearance and the fact that she had a penis, which triggered an alert from the body scanner. In response, TSA representatives assured that they would improve the system for handling transgender travelers. It doesn't appear that much has changed, though. She tweeted about going through a similar humiliating ordeal at Puerto Rico's airport with TSA agents earlier this December.
Enjoy your holidays, Americans. But make sure to do so in such a way that doesn't make low-level federal employees nervous or even slightly confused: