It's Probably Safe to Start Paying Attention to the Polls Now
Trump is still winning but it's far from over.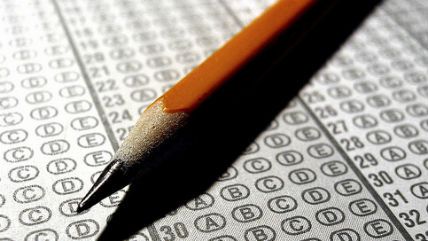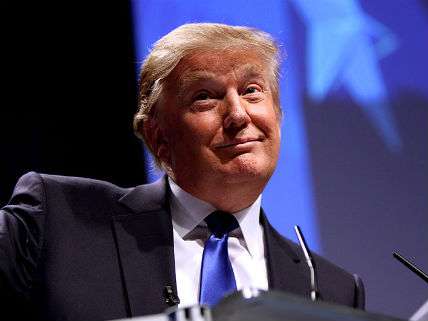 For months I've been warning Reason readers not to put stock in the primary polling. Sure, Donald Trump is leading, but the evidence from Google Trends is that people don't really start paying attention to the race until January.
At this point in '07, the GOP frontrunner was former New York City Mayor Rudy Giuliani, with former Arkansas Gov. Mike Huckabee close behind. On the Democratic side, Sen. Hillary Clinton was roundly expected to win. Four years later, in December '11, pizza mogul Herman Cain had just faded from the scene and former Speaker Newt Gingrich was leading the national polls. I probably don't need to remind you that none of the people I just mentioned eventually won either party's nomination in either of those years.
All that said, as we approach the first primaries and caucuses, the polling does begin to increase in its predictive power. A study from RealClearPolitics' David Byler found that the "r squared" of surveys in the 2008 and 2012 cycles rose from 0.6 after Thanksgiving to 0.9+ just before the votes were cast. This means that right around now is when it starts to become reasonable to look at the numbers and expect them to tell you something meaningful.
So what are the data saying?
Well, at the national level and in New Hampshire and South Carolina, Trump is still ahead. In fact, the RealClearPolitics polling averages for all three of those places have his lead in the double digits. And the longer that remains the case as time ticks forward, the more likely the polls are to be getting it right.
Moreover, a study just released by the Morning Consult suggests that traditional live-interviewer telephone polling might be understating Trump's support. Why? The Los Angeles Times has the likely explanation:
Some significant number of Trump supporters, especially those with college educations, are "less likely to say that they support him when they're talking to a live human" than when they are in the "anonymous environment" of an online survey, said the firm's polling director, Kyle Dropp. …

The most likely explanation for that education gap, Dropp and his colleagues believe, is a well-known problem known as social-desirability bias—the tendency of people to not want to confess unpopular views to a pollster.

Blue-collar voters don't feel embarrassed about supporting Trump, who is very popular in their communities, the pollsters suggested. But many college-educated Republicans may hesitate to admit their attraction to Trump, the experiment indicates.
So it's possible that there are more Trump supporters out there than we fully realize, because many of them are reluctant to say they plan to vote for him when a real-life human calls them up. If you're interested in the nittgy gritty, my former boss, the pollster Kristen Soltis Anderson, wrote a long post the week before last on all of that and more.
There is one early state where Trump isn't leading, however: Iowa, where in recent weeks Sen. Ted Cruz has rocketed into first place. Just the last two days have brought stories about the Texan locking up the support of both evangelical Christians and talk radio hosts. And he's now in second place nationally with 18 percent on average—up 11 points since Halloween.
I'm a big believer in not drawing too many conclusions from what's going on in Iowa—after all, the last two caucus winners were Rick Santorum and Mike Huckabee, neither of whom were able to go the distance. But as any pollster who's ever done a focus group in Des Moines knows, Iowans take their "first in the nation" position seriously and start paying close attention to an election far earlier than do voters in other places. So there's a chance Trump's slip in the Hawkeye State is a presage of things to come elsewhere.
It's also worth noting that the betting markets aren't breaking his way. As of now, Florida Sen. Marco Rubio is still considered most likely to win the Republican nomination at 33 percent. Cruz is second at 28 percent, and Trump is back at third with 23 percent.
Another data point that should be making the Trump campaign sweat comes from the most recent national poll in the RealClearPolitics average, a 1,140-voter survey from Quinnipiac that puts him up by just 4 points. Not only is Cruz right on his heels, but the reality TV star's "favorables" are in the figurative gutter. The percentage of people who view him negatively is 26 points higher than the percentage who view him positively. As a comparison: Rubio is at +9 and Clinton is at –8 to Trump's –26. And fully half of Americans (including nearly as many political independents) say they'd be "embarrassed to have Donald Trump as president."
The Quinnipiac survey also asks a series of general election matchup questions. Although it's way too early to be making predictions about what'll happen next November, Trump fans who care at all about electability have reason to be nervous. Both Rubio and Cruz are tied with Clinton in a hypothetical race. But not only does the poll find Trump losing to the former secretary of state by 7 points if the election were held today, it also finds him losing to Democratic Socialist Sen. Bernie Sanders by a double-digit margin. Ouch.