Breaking: 14 Dead in San Bernardino Shooting (UPDATED)
Two suspects dead after shootout with police.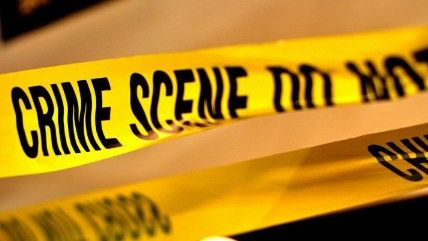 ([puamelia] / photo on flickr)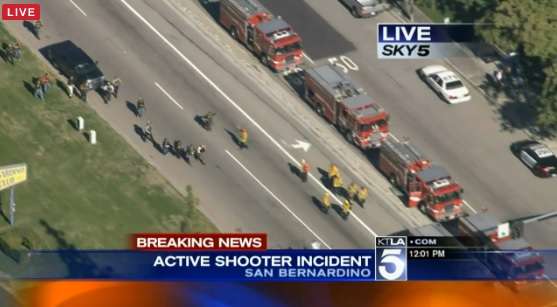 SWAT teams are responding to reports of live shooters at a building in San Bernardino, California.
Initial reporting is extremely vague. Even the local newspaper, the San Bernardino Sun, only has a couple of sentences about it so far. (Update: They have much more information now)
For those who want to stay tuned, KTLA in Los Angeles has a live feed of the situation here. The reports started coming it at 11 a.m. Pacific time, so it's still very early. Here's what KTLA says:
San Bernardino Fire Department units were responding to a report of a "20-victim shooting" on Wednesday, authorities said.

The incident was reported in the 1300 block of South Waterman Avenue, the Fire Department tweeted shortly before 11:15 a.m.

San Bernardino police confirmed around 11:30 a.m. there was an active shooter in the area of Orange Show Road / Waterman Avenue near Park Center Circle.

The San Bernardino County Sheriff's Department warned people to avoid the area due to police activity.
Updated: Officials say there may be as many as three shooters. The targeted building appears to be the Inland Regional Center, which provides services to people with developmental disabilities.
Update: A representative for the San Bernardino Police Department has said that there are fatalities, but the number has not yet been released.
Update: Here's how the L.A. Times describes the current situation:
The shooters, wearing camouflage and masks, left up to 20 people injured and several dead after gunfire erupted around 11 a.m., sources and police officials said.

A person who was inside the building also told the Los Angeles Times that the shooting may have happened during a Christmas party, but declined to be identified or comment further.

Investigators are now searching for a black sport utility vehicle that may have fled from the Waterman Avenue office building, according to federal law enforcement sources, who requested anonymity because the investigation is active and ongoing.
There still appear to be no arrests an as a result there are all sorts of speculative reports of sightings and confrontations elsewhere. A press conference has been scheduled around 1:45 p.m. Pacific time.
Update: At a press conference, San Bernardino's police chief said "upwards of 14" people have been killed and the same amount injured. They believe there were up to three shooters that are still at large. They do not yet know the motives for the shooting. They do not yet know whether it was an act of terrorism.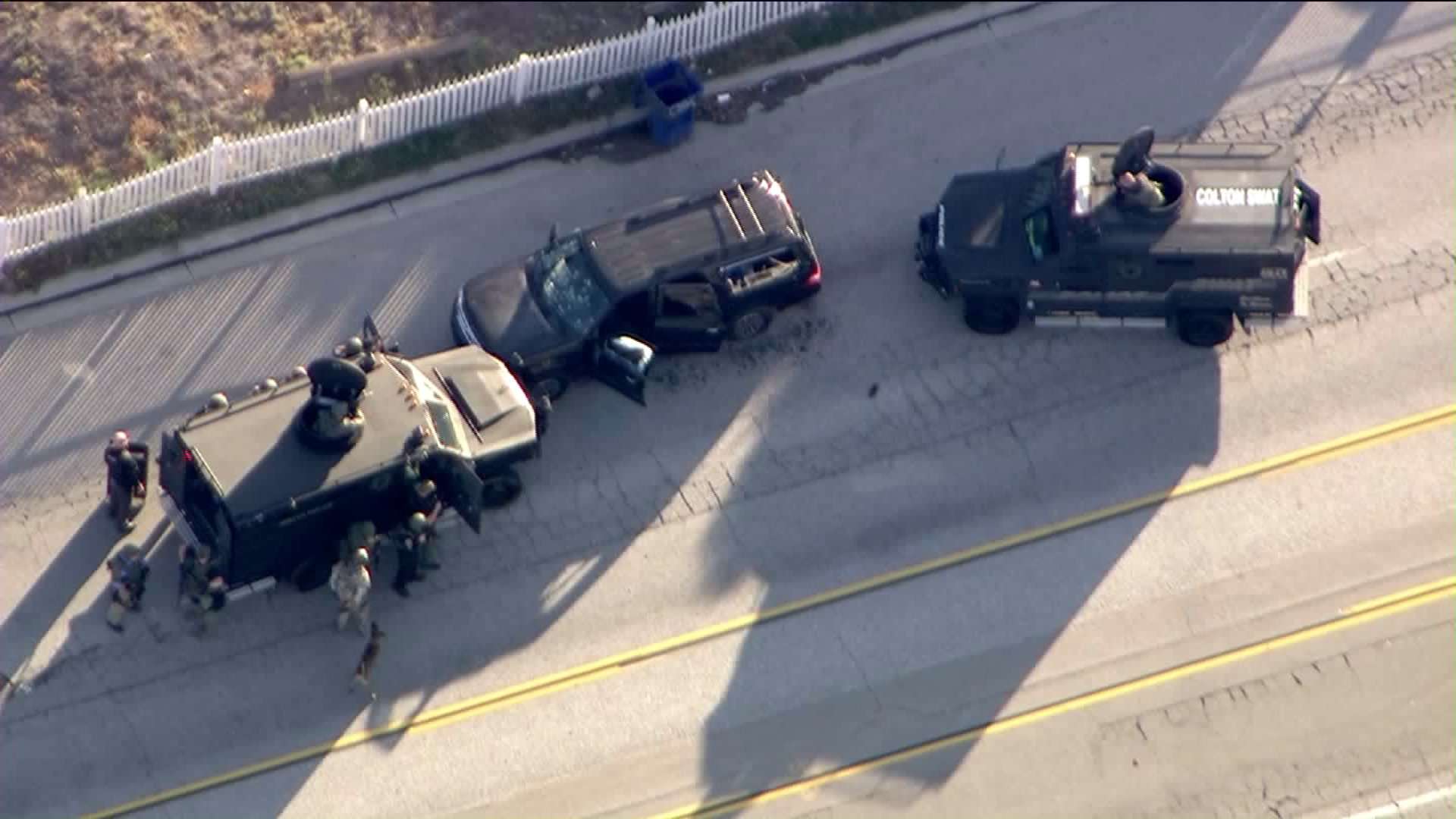 Update (3:20 p.m. Pacific): Police are currently in a confrontation on the streets of San Bernardino. It appears, according to KTLA's chopper coverage, that somebody has been shot and is bleeding on the street.
From the AP about the latest confrontation:
Police say shots have been fired and a suspect is down near a dark-colored SUV.

It's unclear if the suspect is related to the deadly shooting Wednesday at a social services facility in Southern California. Police have said that the suspects may have fled in a dark SUV.

San Bernardino police Sgt. Vicki Cervantes said she knew of no officers who were injured in the shootout.

Television footage showed armored vehicles blocking the SUV on a residential street.
Television coverage showed a dark SUV that was riddled with bulletholes. At a press conference, a police official upped then number of people injured at the shooting to 17.
Update (4:10 p.m. Pacific): Police have confirmed one suspect down and one in custody but very little else. One police officer was injured but is in good condition. There will be a bigger press conference at 4:45 p.m. with more information.
Police are stil active in apparently two other locations, though it's not clear if there are actually any suspects there related to the shooting.
Update (5:45 p.m. Pacific): San Bernardino Police and FBI officials held another press conference. The latest information:
The shootout with police and suspects happened when they were following a lead in nearby Redlands. Two people were killed in the scene. One was male. One was female. They were carrying both "assault" weapons and handguns. They have provided no other information about the two suspects.
They have a third person in custody that was seen fleeing the above situation. They do not know for certain whether this person is a suspect or actually connected to the shooting.
The police do not have a motive as yet. There has been a theory passed through anonymous police sources to the Los Angeles Times that somebody left the center after a confrontation at a meeting and came back, armed, with friends. Police acknolwedged that somebody did indeed leave the building after a dispute of some sort, but they don't know if that person is one of the suspects.
They found what the believe to be is an explosive device at Center, and they're still working with it. A report that the suspects threw some form of pipe bomb at the police turned out to be incorrect. They are approaching both the home of the suspects and the SUV very carefully out of concern for additional explosives.
They don't know for certain whether there were any additional people responsible for the shooting.
Update (6:50 p.m. Pacific): Multiple law enforcement sources have confirmed to the Los Angeles Times the name of the male suspect killed by police. His name is apparently Syed Farook. They investigate:
Two law enforcement sources identified one of the deceased suspects as Syed Farook, an American citizen.

Public records show a person named Syed R. Farook was employed by the San Bernardino County Health department as an environmental health specialist, but it was not clear if that was the same person involved in the shooting.

The identity of the second person killed by police was not immediately known.
Employees from the County's health department were having a party or event in the Center complex where the shooting happened.