Gangsta Rap Is Free Speech
Decades after Straight Outta Compton, rappers are still fighting for free expression.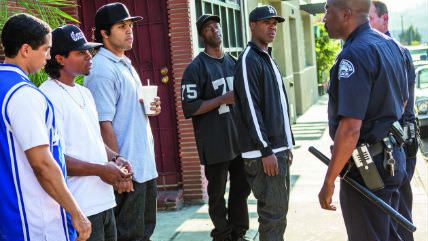 (Jaimie Trueblood/Universal Pictures)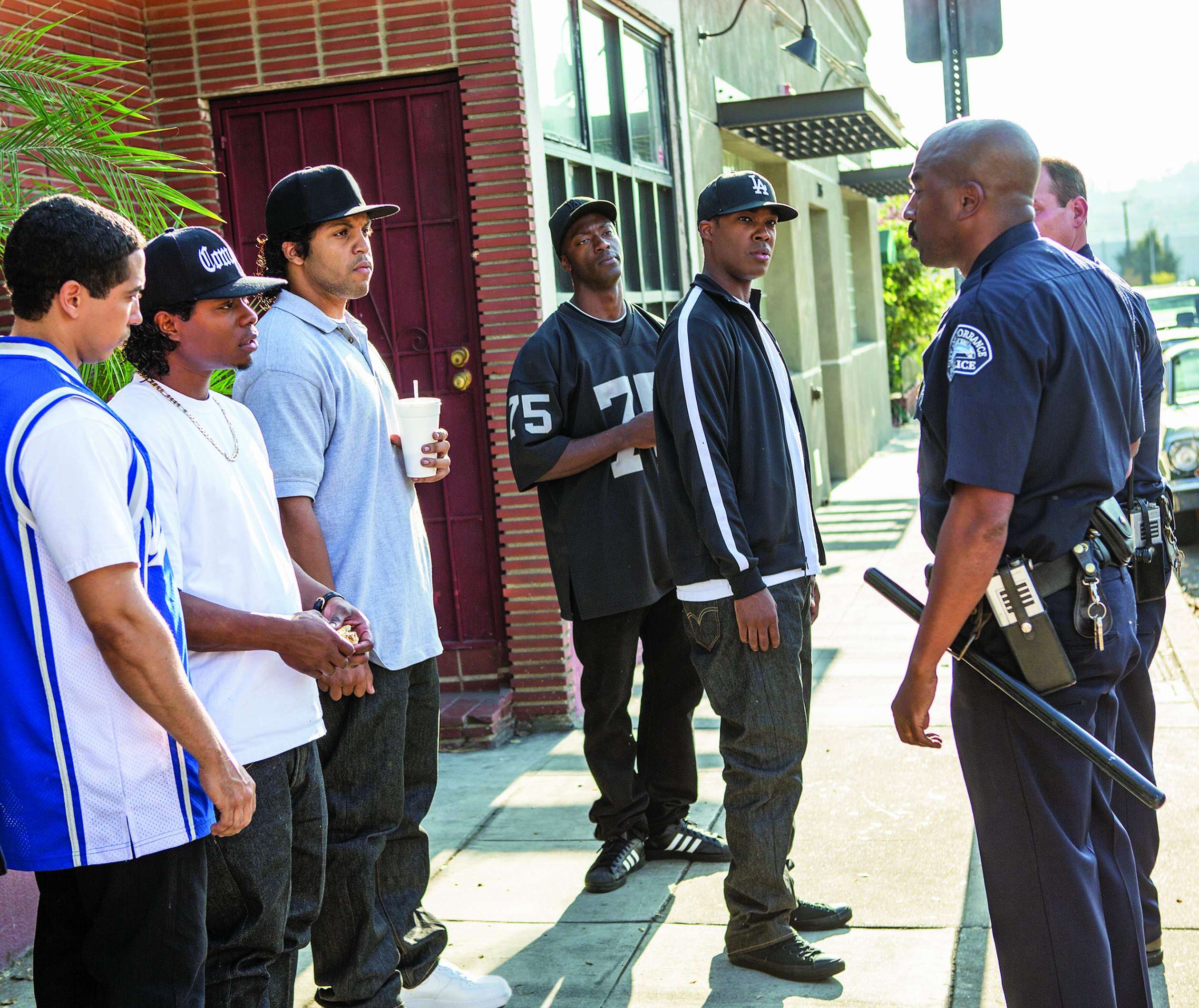 The blockbuster summer movie Straight Outta Compton borrowed its name from a groundbreaking 1988 album from N.W.A.—the first gangsta rap record to go huge.
The original Straight Outta Compton featured graphic statements about life in South Central, Los Angeles. One song, "Fuck Tha Police," included lyrics like "beat a police outta shape" and "takin' out a police would make my day." Critics worried that the violent lyrics would inspire real world aggression, but N.W.A. claimed it was the other way around. As one member—Ice Cube—puts it at a press conference in the film, "Our art is a reflection of our reality." The point was to highlight and criticize profiling and brutality in N.W.A.'s community: "They have the authority to kill a minority / Fuck that shit, cause I ain't the one / For a punk motherfucker with a badge and a gun / To be beating on, and thrown in jail. / We can go toe to toe in the middle of a cell."
The feds didn't see it that way. In 1989, the FBI sent a warning letter to the band's record label saying the lyrics to "Fuck Tha Police" encouraged "violence against and disrespect for the law enforcement officer." But the attempt to silence the rappers backfired. After the group went public with the letter, First Amendment activists leapt to their defense and N.W.A. became more popular than ever. Straight Outta Compton would eventually be selected as one of Rolling Stone's "500 Greatest Albums of All Time," and two of the group's members, Dr. Dre and Ice Cube, would go on to become superstars.
Despite N.W.A.'s success, law enforcement still has hip-hop in its crosshairs. The San Diego rapper Brandon Duncan—better known by his stage name, Tiny Doo—recently spent eight months in jail for conspiring to commit a series of gang-related shootings. He wasn't accused of pulling the trigger, or even helping to plan the crimes. Rather, prosecutors claimed he willfully promoted and benefited from them through his album No Safety.
To support the prosecution, Deputy District Attorney Anthony Campagna pointed out that the image on the cover of Duncan's album is "a revolver with bullets." But album covers and song lyrics are exactly the types of expression the Constitution safeguards, something N.W.A.'s experience nearly three decades earlier should have demonstrated.
Perhaps worst of all, prosecutors are targeting what many rappers see as the best tool at their disposal for making their lives better. "Rap is my way out," Duncan says. "That's the whole thing about rap is you create this platform that you can help a whole lot of people that normally wouldn't have help, that would be stuck right there in that ghetto, that would be stuck in that 'hood."
In the Straight Outta Compton movie, the scene that precedes the writing of "Fuck Tha Police" shows two police officers gratuitously forcing N.W.A. to lay face down on a sidewalk outside the recording studio. The group's manager protests that the young men are not criminals but artists, to which one of the officers retorts, "Rap is not an art." Although the scene may seem melodramatic, it reflects some officers' real opinions.
The film Straight Outta Compton is a good reminder that gangsta rap may seem scary, but it is—and always has been—protected by the First Amendment.
This article originally appeared in print under the headline "Gangsta Rap Is Free Speech".