The Feds Have Failed Veterans, but the Private Sector Is Picking Up the Slack
Survey results and death penalty statistics reveal a shocking truth about veterans' mistreatment, but there's hope beyond Uncle Sam.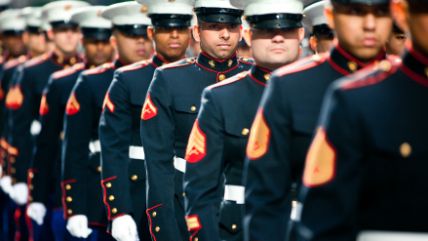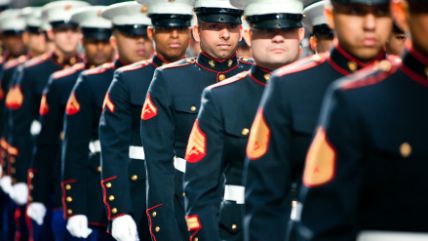 The federal government's ability to care for returning veterans and set them up for success in civilian life has proved woefully inadequate for decades. The notorious failures and backlogs of the VA have received renewed attention on the presidential campaign trail, but the problems go much deeper than issues with basic medical care.
A recent survey from Disabled American Veterans indicates that less than half of veterans believe they have received the support they were promised upon returning from service, with only 1 in 5 saying the federal government treats them well or that they have gotten the benefits due to them. Moreover, fully two-thirds of respondents say they are unprepared for or stigmatized in the civilian job market.
More sinister evidence of a lack of concern or understanding for veterans' issues has also just been released by the Death Penalty Information Center, which reports that while only 0.04% 0.4% of the general population have served currently serve in active duty, at least 10% of current death row inmates are veterans, and many others have already been executed. While the exact prevalence of post-traumatic stress disorder and other service-related disabilities among these vets is difficult to determine, many are known to have PTSD, some having been granted 100% disability as a result.
The Obama administration has paid repeated lip service to cleaning up the VA and otherwise keeping promises to vets. Among other programs, the White House created Joining Forces, an effort to reduce homelessness and increase opportunities for former military members. A recently announced partnership with Uber and Lyft claims it will give free rides to veterans for job interviews.
The feds' efforts have not delivered much in the way of tangible benefits for veterans, however, as indicated by the D.A.V. survey results. But there have been significant recorded gains in private sector employment and non-profit support for veterans over the past few years. While it's impossible to know how much of a nudge the White House's new focus on public-private partnerships may have given to such efforts, the innovation around veterans' issues is now squarely in the domain of the private sector.
Predictably, a flourishing of creative approaches has resulted. For example, this past week, 5 of the world's top gamers gathered to play the highly anticipated game Call of Duty: Black Ops III, in a livestreamed fundraising event that netted 6 figures for non-profits supported by the Call of Duty Endowment. Microsoft and other tech giants are running programs designed to capitalize on vets' leadership and other skills while transitioning them to a job. These and other efforts have resulted in the unemployment rate for veterans dipping below that for other people.
In September, Reason TV spoke with veteran Army Rangers Matthew Griffin and Donald Lee, founders of Combat Flip Flops, about their efforts to convert military to commercial infrastructure. Their experiences as commandos in the Special Operations Force, conducting raids in remote Afghan villages and calling in airstrikes, led them to believe that the only sustainable path to peace is through economic opportunity.
Watch the video above to find out how their company manages to employ both U.S. veterans and locals in conflict zones, while giving 10-20% of profits to help veterans' aid organizations, educate Afghan girls (they've provided over 50 years of school just this year), and de-mine areas of Laos.