University of Missouri Cops Tell Students to Report 'Hurtful Speech' to the Police
Mizzou admins, cops shouldn't censors hate speech.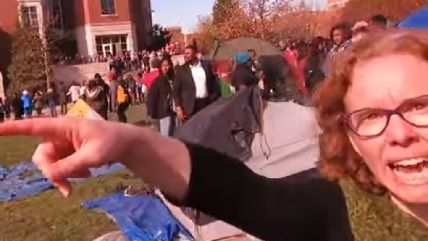 Given the current situation, is anyone under the illusion that race relations at the University of Missouri would be improved by a more robust police presence in campus affairs? In any event, the Mizzou police department sent an email to students on Tuesday morning instructing them to call the cops if they witness "hateful and/or hurtful speech."
Here is the text of the email:
To continue to ensure that the University of Missouri campus remains safe, the MU Police Department (MUPD) is asking individuals who witness incidents of hateful and/or hurtful speech or actions to:

Call the police immediately at 573-882-7201. (If you are in an emergency situation, dial 911.)
Give the communications operator a summary of the incident, including location.
Provide a detailed description of the individual(s) involved.
Provide a license plate and vehicle descriptions (if appropriate).
If possible and if it can be done safely, take a photo of the individual(s) with your cell phone.

Delays, including posting information to social media, can often reduce the chances of identifying the responsible parties. While cases of hateful and hurtful speech are not crimes, if the individual(s) identified are students, MU's Office of Student Conduct can take disciplinary action.
While the message concedes that uttering hurtful words is not a crime, it clearly establishes that students who exercise their free speech rights could face any number of other, dire consequences—suspension and expulsion, presumably. This flies in the face of the First Amendment; students at a public university cannot be sanctioned for engaging in hurtful speech, though university administrators routinely forget this rule and flagrantly violate it.
Mizzou, however, is apparently taking the college war on free expression a step further, unwisely involving the police in clearly non-criminal matters.
I called the department for clarification on the policy; a spokesperson assured me that students who were reported to the authorities for hurtful speech could not be arrested, but an officer would nevertheless be dispatched to take stock of the situation.
"We are also university officials," said the spokesperson. "So we also take reports for violations of rules and regulations. There's no arrest."
The police department framed the policy as a way for students to report speech code violations. Indeed, many universities have "bias incident" reporting protocols, although these typically involve witnesses bringing allegations directly to administrators via an online system, and do not involve cops.
I gather Mizzou's police department wanted to assure students at this time of crisis that racist incidents are being taken seriously. But let's keep in mind that there is no modern American public institution with a worse record of treating black people humanely than police departments. If the black activists who forced MU President Tim Wolfe to resign actually want the police to monitor campus for possible speech infractions, they are remarkably short-sighted.