U. of M. President Quits, SeaWorld to Dump Killer Whale Shows, Russia Faces Massive Sports Doping Scandal: P.M. Links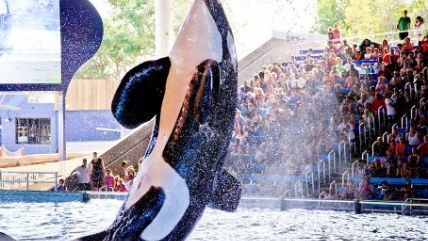 (Phan Ly Photography.On/Off / photo on flickr)
Credit: Phan Ly Photography.On/Off / photo on flickr

The president of the University of Missouri has quit in the face of protests by African-American students, the football team, and faculty, over his alleged failure to address instances or racism on campus. In the meantime, students are apparently surrounding the protesters to keep the media from interviewing them. Do they not understand how protests work?

SeaWorld intends to phase its killer whale show out of its San Diego park in the face of protests by those who accuse the theme parks of abusing orcas. It will be replaced with a non-performance "orca experience" that sounds like a bunch of killer whales swimming around in a tank.
Fox Business is promising not to make the same mistakes as CNBC in tomorrow night's Republican presidential candidate debate. By the way, after the debate, John Stossel will host a special midnight show where libertarians will comment about what the candidates say.
Russia faces having its athletes booted from international competition over a massive doping scandal. Will they get banned from the Rio Olympics?
Three Michigan teens stand accused of plotting a shooting attack on a school. They apparently were writing about the plot on Instagram, which kind of seems like a really bad idea.
A federal judge has again ruled that the mass surveillance of Americans' metadata by the National Security Agency is unconstitutional. It probably won't mean much now, as the NSA will be shifting to new surveillance authorization rules passed by Congress by the end of November.
In this week's episode of South Park, citizens will decide they can do without a police force.
New at Reason.com:
Follow us on Facebook and Twitter, and don't forget to sign up for Reason's daily updates for more content.