Embracing Uber Would Be Good for New York
The taxi cartel claims jobs will be lost, but the numbers don't add up.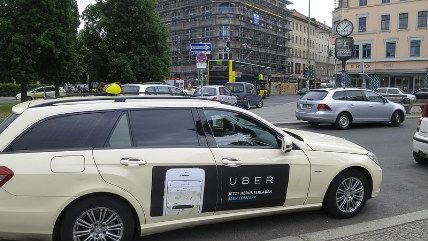 (illustir / photo on flickr)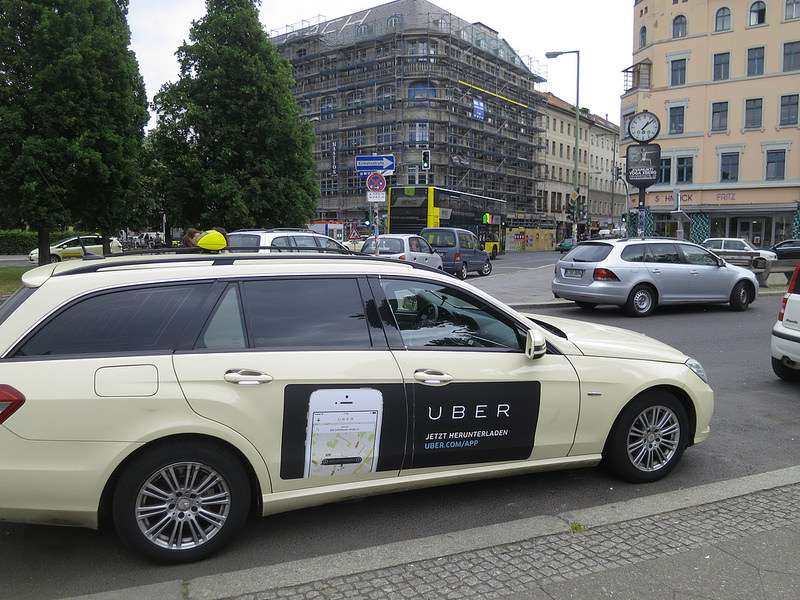 Will Uber create 13,000 jobs in its first year of operation in New York State, or will it destroy 11,150 jobs? As state policymakers in Albany debate crafting a legal framework that would allow Uber to move Upstate and to Long Island, the answer to this question is important for New Yorkers and the state's economic future.
The projection of 13,000 new jobs comes from Uber. The projection that 11,150 jobs will be destroyed comes from the Committee for Taxi Safety, Uber's opposition. It is clear after evaluating both reports that welcoming Uber will be a net gain for New York.
The committee "is comprised of licensed New York City taxi agents managing approximately (20 percent) of the yellow [taxis] in New York City." It has taken an interest in the rest of the state because the committee's members are worried that state regulation will force New York City policymakers to reverse their hostile stance towards Uber. The city is studying the company's effects on Manhattan traffic, and could announce a cap on its growth in late November. This—if not an outright ban—is precisely what the taxi industry wants.
While embracing Uber and its ride-hailing competitors would benefit consumers and the state's economy, opening up the transportation market to innovation will lead to taxi special interests in New York City losing even more money as consumers and drivers flock to Uber. Some owners and financers of taxi medallions (which provide a government-granted monopoly on street hails in Downtown and Midtown Manhattan) have already filed for bankruptcy, and more will likely follow as Uber continues to grow.
How did the committee arrive at its estimates? It cites the 18,700 taxi drivers across the state (excluding New York City), which are 63 percent the 29,850 workers in the taxi and limousine industry. It assumes that all these drivers will move to Uber. Then, it estimates that the additional 11,150 non-drivers in the industry, who provide mechanical and other support services, will lose their jobs.
For this conclusion to be valid, the authors of the committee's report must assume that Uber is a magical new form of transportation that does not require any cars or support staff. In reality, taxi support jobs, such as "mechanics," will continue to exist—and will likely grow—with Uber. Uber's business model still needs functioning cars and a working technological platform, too. As Uber grows, as it has across the world, more support services are needed, not fewer.
The misunderstanding of Uber's business model does not end here. The committee's report also states, "Uber's business model is simple: 'disrupt' the taxi industry by converting taxi drivers into Uber drivers."
Even though some may find that the flexibility of driving for Uber is more appealing than driving regular taxis, Uber does not just poach existing taxi drivers. It instead provides a platform for people who can pass a background check, meet vehicle safety requirements, and maintain high levels of customer satisfaction to drive passengers in their own cars. Only half of Uber's driver-partners have any previous professional driving experience.
Uber has been able to attract many new drivers because, due to restrictions on competition, the existing taxi industry has not met the needs of consumers. People are looking for more ways to travel. An assumption that the number of drivers is fixed ignores reality. Uber has added to the proverbial "pie" of vehicle-for-hire drivers, and it will only continue to do so as it expands. As people find that they can easily take Ubers, they are more inclined to leave their cars at home—or skip purchasing a car altogether.
The committee is correct that many of the 13,000 jobs created by Uber will be part time. Though Uber hints at this in its report, the company should have made this point more clearly. After all, the option of part-time work is a feature—not a bug—of Uber's business model and the opportunities it creates.
Over half of Uber driver-partners work fewer than 15 hours a week, and only 5 percent work over 50 hours. But this is not a reason for concern. Part-time work is an important option to keep open for many people—especially when workers have the ability to work full time in that same position. It is also a plus for consumers. Costs are lower if drivers spend more time with full cars, rather than driving around looking for passengers.
Three-quarters of drivers who partner with Uber prefer being their own boss over having traditional full-time jobs with the associated benefits. Some drivers who partner with Uber are looking for a weekend job so that they can meet their car payments, and others are single parents who can only work while their children are in school.
Another benefit besides job growth that Uber cites in its report is its reduction in drunk driving. Nationally, Uber trips peak between 9:30 p.m. and 1:30 a.m., when alcohol-related accidents are at their highest levels. As my research on New York City's market shows, Uber trips are higher from 7 p.m. to midnight than they are for the morning rush hour (7 a.m. to 10 a.m.).
Times of high demand for rides—such as bar close—are precisely when taxis are the most difficult to find. Regulations on what fares taxis can charge provide little incentives for drivers to be on the road when they could be at their homes sleeping. Alternatively, Uber's pricing changes with demand so that drivers can earn more and customers can more easily find rides.
It is not surprising that, because of access to reliable transportation home, 78 percent of Uber users say that the service makes their friends less likely to drive after drinking. In a state with as many college towns as New York, policymakers should be doing everything in their powers to reduce drunk driving.
At every stage in Uber's growth, established interests in the taxi industry have used claims about its dangers to scare politicians into acting. Each time, claims have been shown to be overstated or blatantly false. Undeterred, taxis continue to use any political means available to maintain their monopoly. Rather than focusing on competing on Main Street, they turn their attention to city halls and state capitols.
True technical progress does not replace current jobs with exact replicas at different companies. Rather, these types of advances drive down costs for consumers, who can now spend their money elsewhere, and allow workers to move into entirely new industries. If Uber can meet customers' needs with fewer dispatchers, productivity grows. With productivity gains comes economic growth. With economic growth come new jobs.
Albany policymakers who represent citizens from Upstate and Long Island have a choice. They can either embrace a new technology that offers consumers and workers increased opportunities, or they can protect an established industry that has failed to meet New Yorkers' needs. Arguing that Uber will lead to a net jobs loss is both untrue and a distraction. This debate is all about protecting special interests—not the public.