Much Hyped Theranos Diagnostics: Is It Vaporware?
Even worse, CEO Holmes evidently wants the FDA to regulate competing products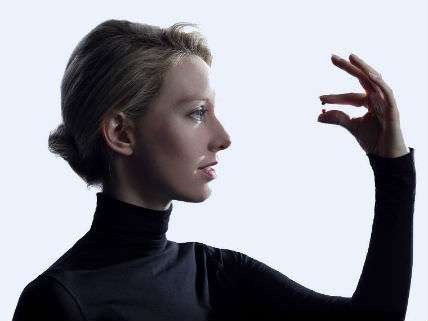 I take biomedical diagnostic tests for fun. I have posted my genotype screening test results on the Internet for all to see. So I was really looking forward to taking advantage of the 240 diagnostic tests that startup Theranos promised could soon be run for cheap using just a couple of drops of my blood. Given how over-regulation has stifled medical advances, I was also looking forward to the massive disruption of health care system that Theranos was also promising.
Now comes a couple of articles in the Wall Street Journal which claim that Theranos' Edison diagnostic technology runs only about 15 tests and the accuracy of those are still in question. The Journal reports that most of the other tests offered by the company are run on standard lab equipment.
CEO Elizabeth Holmes is fighting back. She appeared on Jim Cramer's Mad Money show yesterday claiming that the Journal article is filled with mistakes and misreporting. She also asserted that her competitors in the lab testing industry planted the stories in an effort to discredit her company. I hope she is right, but her oddly evasive answers on the Cramer show were, let's say, somewhat less than convincing.
One other comment made by Holmes on Mad Money caught my attention: she wants all diagnostic tests to go through FDA approval before allowing them to be used by doctors and patients. This provoked me to go look up her July 28, 2015 Wall Street Journal op-ed, "How to Usher in a New Era of Preventive Health Care." In that op-ed Holmes said a lot of great things about the power of technology to drive down costs and free individuals from medical paternalism:
Innovation needs to be unleashed. The improvements that technology and innovation could bring to health care are limited only by the imagination. But the technological progress that brought us the personal computer, the smartphone, the car was powered by consumer choice and free access to information in the market. That will be true in health care as well. …

Empowering individuals to engage in their own health, including through ordering their own lab tests, means the prices of these services will increasingly become transparent. Transparent pricing and consumer engagement allow markets to function, driving competition and innovation for higher-quality and lower-cost services. …

You have a fundamental right to access information about your own health. And you should be able to access that information when it matters most—when there is still time to change your life, and the lives of those you love, for the better.

The answers to our challenges in health care lie in the individual. By empowering individuals to engage in their own health, we can build a preventive care system in America—and a world in which fewer people have to say goodbye too soon.
Well, hooray and huzzah! But wait…in the same op-ed Holmes argued:
All lab tests should undergo review by the Food and Drug Administration. Given the pivotal role of labs in medicine, consumers need to trust the quality and accuracy of the tests they get. The FDA sets the gold standard for quality assurance. Its review is data-driven, objective and uniquely rigorous. …

The FDA recently proposed requiring laboratories to submit their tests for review. The proposal should be adopted. And Congress should provide the agency with the funds to exercise this oversight.
That's not very disruptive. In fact, such a requirement is just another old-fashioned rent-seeking barrier to entry for competitors.
Unleashing the regulators at the FDA is no way to unleash innovation. Just ask the folks at 23andMe whose innovative genotype screening tests were blocked by FDA regulators. How? The agency claimed that the vials used by 23andMe to collect saliva for testing were medical devices subject to FDA approval.
As it happens, the Journal is reporting today that FDA inspectors have shown up a Theranos and are claiming that the company's "nanotainers," the small vials used to collect blood from pricked fingers are also unapproved medical devices.
I do really hope that this is all a big misunderstanding and I will soon be a happy customer of Theranos' disruptive technologies. Stay posted.