Movie Review: Steve Jobs
Michael Fassbender's riveting take on the man who changed the world.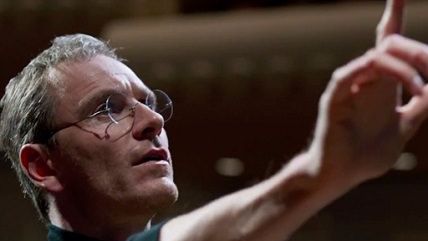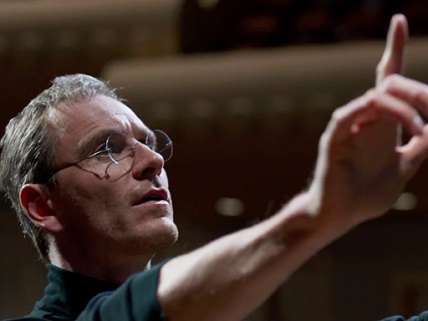 Danny Boyle's Steve Jobs biopic leaves a lot out. There's no mention of the late Apple mastermind's devotion to Buddhism, his funding of Pixar Animation Studios, or some of the most celebrated products he shepherded into being, like the iPod and the iPhone. Also cropped out of the picture are Jobs' wife of 20 years, Laurene, and their three children.
But given the abundance of incident in the movie's source material—Walter Isaacson's monumental 2011 biography, a book that Jobs authorized but didn't interfere with, or even read, before his death that same year—such omissions were obviously unavoidable. Instead of getting lost in the man's complicated life, director Boyle and his screenwriter, Aaron Sorkin, have hooked Jobs' story on three of his famous product-launch events: the 1984 introduction of the game-changing Macintosh, the 1988 unveiling of the NeXT computer (the machine on which Tim Berners-Lee created the World Wide Web), and the 1997 debut of the iconic iMac.
The result of this compression is a movie that hits the ground running and rarely flags for the next two hours. It's filled with Sorkin's trademark talk-talk-talk, but Boyle whips things along with inventive shot designs and an electronic score (by Daniel Pemberton) that almost never stops percolating beneath the rich dialogue. Most memorably, the picture is a showcase for its star, Michael Fassbender, who doesn't really resemble Jobs (until the end, when the mock-turtlenecks and New Balance sneaks come out), but who gives an enthralling performance as a man whose conflicting inclinations—toward both harmonious design and thoughtless cruelty—somehow combined to truly change the world.
Like Isaacson's book, Boyle's movie is not a hagiography. Jobs' heartlessness is dealt with right at the top, in a scene set in 1984, when we see him rebuffing his longtime girlfriend, Chrisann Brennan (Katherine Waterston), who has turned up at one of his events with his first child, Lisa, to whom she gave birth five years earlier. Jobs continues to deny that Lisa is his daughter, even though a DNA test has determined his paternity to a near certainty. And while Jobs is already a multimillionaire, he pays Chrisann only $385 dollars a month in support, and is unmoved when she tells him she has had to go on welfare. Jobs' icy rejection is appalling: Chrisann is pathetically vulnerable, and only a man with the heart of a turnip could reject the Lisa we see here (played with dental braces and winsome intelligence by Ripley Sobo).
Jobs is merely condescending with his longtime friend and Apple cofounder Steve Wozniak (Seth Rogen, deploying comic rhythms but not aiming for laughs). It was the nerdy Wozniak who created the first Apple computer, and he's amazed by the public acclaim that's been showered on his brilliant partner. Jobs is neither a coder nor a designer nor an engineer—he's like a man who can't play an instrument, but who nevertheless manages to make great music. "What do you do?" Wozniak asks. "I play the orchestra," Jobs says.
Fassbender is fast and funny with Sorkin's crackling lines (on Microsoft rival Bill Gates: "He dropped out of a better school than I did"), and his vivid charisma carries us past Jobs' flaws, and somehow keeps us on his side. We see another aspect of Jobs—who was an adopted child—in his conflicted father-son relationship with John Sculley (Jeff Daniels), the older executive he hired away from Pepsi-Cola and by whom he was shortly thereafter fired. And while we witness a few of Jobs' abusive outbursts when his relentless pursuit of perfection is frustrated by under-performing employees (incidents that seem softened, in light of real-life accounts), we also get to see someone actually standing up to him—his no-nonsense marketing chief, Joanna Hoffman, played with an energetic perfection of her own by Kate Winslet.
The movie's through-line is Jobs' awkwardly evolving relationship with his daughter Lisa (who's also played, along the way, by Makenzie Moss and Perla Haney-Jardine). Boyle doesn't over-exploit the possibilities for corny redemption as their story progresses, but at least some hope is offered that Jobs can morph into a more complete human being. "What you make isn't supposed to be the best part of you," Wozniak tells him—possibly the sort of advice the real Steve Jobs finally took to heart.