Cops Use Undercover 'Repent' Signholder to Catch Drivers Using Their Cellphones
Say it's not entrapment if someone takes a picture.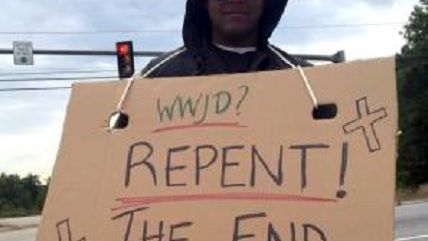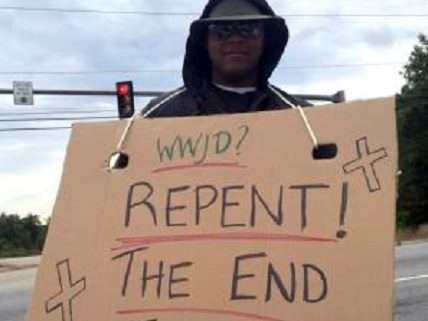 Crime rates have been going down for decades, and while many Americans may be unaware, the decline has inevitably shifted some policing priorities around the country. If crime were out of control and the "war on cops" some apologists insist is happening—despite all data suggesting otherwise—was actually happening, these kinds of police actions would be not only ridiculous but dangerous too.
WMUR in New Hampshire reports:
Michelle Tetreault's daughter didn't know what "repent" meant when she spotted a man with a sign around his neck warning "Repent! The end is near!" But she's plenty sorry now that her mom is facing a $124 traffic ticket for using her cellphone to snap a picture of the man.

The two were stopped at a red light in Somersworth last week when they saw the sign. Moments after Tetreault gave in to her 14-year-old daughter's pleas to take a picture, she was pulled over and told the man with the sign was actually an undercover officer. She was ticketed for violating the state's new law against using cellphones or other electronic devices while driving.
Tetreault said she didn't know it was against the law to use your cellphone at a red light—in many states it is. WMUR sample some of the other over-the-top measures local police departments around the country take against the scourge of texting while driving.
Via WMUR:
With more than 40 states banning text messaging for drivers and a dozen states prohibiting use of hand-held cellphones, police departments around the country are getting creative when it comes to enforcement. New York has given state police 32 unmarked SUVs to allow officers to better peer down at drivers' hands. In California, officers with the San Bernardino police have posed as panhandlers with signs reading: "I am NOT homeless. SB police looking for seatbelt/cellphone violations."

Somersworth police Chief Dean Crombie said that when New Hampshire's law took effect in July, he noticed far fewer drivers using their phones. But as time passed, the problem ramped up again.

"About two weeks ago, I was sitting in an unmarked car watching traffic, and everyone and their brother was on their phone," he said. "So we were looking at innovative ways to maybe come down on people."
For anyone who's driven regularly on American roads knows, lots of people use their cellphones while driving. It's a wonder police officers haven't tried to set up roadblocks to catch texters and drivers. My wife and I once got pulled over in East Orange, N.J., because she had put her left hand near her ear and, the cop said, it looked like she had been on her phone. Satisfied the phone was actually stowed away, he left. East Orange, for what it's worth, has some of the worst crime rates in the area. But catching murders and rapists doesn't raise revenue. Catching drivers exiting the local highway does.
It gets worse. The Insurance Institute for Highway Safety's head, Adrian Lund, told Jalopnik a few years ago he isn't convinced texting and driving is particularly more dangerous than other kinds of poor driving practices, but says the laws against texting and driving could be distracting from more serious issues of highway safety. There's no evidence cellphone use while driving increases the incidence of crashes—in the interview with Jalopnik Lund said he suspected this was because cellphone use wasn't a new distraction insomuch as a replacement for other distractions, like reading the newspaper or shaving while driving.
Lind also pushed back against the idea that technology is making driving more dangerous:
Jalopnik: I'm sitting in a car with Bluetooth, navigation and a host of other hands-free technology. How do you think that will affect crash rates?

Lund: We've also had GPS coming into cars and a lot of other technology, and we don't see an increase in crashes. We need to be a little humbled by this and reevaluate the way people are using this technology in cars. We need to remember that distracted driving didn't begin with cellphones. Go back to the 1970s, when you looked at crashes the proximate cause was driver error, and usually it goes back to the driver not seeing something, which is distraction.

The DOT is absolutely right that distracted driving is an issue, and we need to address it. Our problem is when we look at laws, they don't seem an effective strategy for addressing it. We are hopeful some crash avoidance technology will be more successful.

Let's face it: Why do we have forward collision warning systems and lane departure warning systems? It's because drivers get distracted, and the idea of these systems is to get drivers attention back on the road when they wander into dangerous situation.
The blog drive-safely.net, meanwhile, explains how texting and driving laws could actually be leading to even more dangerous driving:
You see, before driving while texting became illegal, motorists didn't have to hide the activity. Even if they performed texting in plain view of a police officer while driving through a school zone, there was nothing the police could do. But things have changed. Now that the practice is illegal, people keep their phones hidden while they text and drive. So now, instead of the phone being up above the steering wheel where drivers can still see the road, they hold the phone down by their lap or under the steering wheel. This allows them to read or write a text out of view from the police.
Driving-safely.net also notes the fervor whipped up over texting and driving is preventing companies from developing technologies that could make using your cellphone while operating your car safer. Sometimes I wonder if in today's safety-conscious climate the government would even allow radio and radio dials in cars had they not already been ubiquitous. What a distraction changing the station can be.