Syria: Chinese Uyghurs Killing Russian Spies According to Turkey's Plan
It's a Zionist conspiracy, of course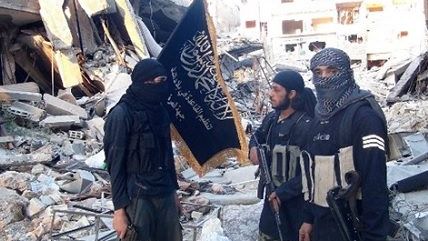 So while enormous numbers of Syrian refugees are attempting to get out of the Middle East and into Europe, what is happening in the empty villages they have left behind? According to Al Mayadeen, a Beirut-based satellite news service, at least some of the abandoned villages in northern Syria are filling up with the families of Muslim Chinese Uyghurs. These Uyghurs, claims the report, are entering the country along with their wives and children to fight alongside the Al Nusra Front and ISIS against the Assad regime.
Al Mayadeen reported in September that after a successful raid on Jisr Al-Shughur, a city of some 50,000 people near Aleppo, "this Syrian city looks more like China than Damascus. Thousands of Chinese Turkestani families were resettled in the area. Especially in the village of Zanbaq." (Translation by MEMRI.)
Let's pause to review the players. Uyghurs are actually a Turkic people, millions of whom live in western China. Though some Uyghurs look like Europeans, a lot of them have Asian features. They have sometimes been in conflict with the Chinese state; there were serious problems in China's Uyghur-majority regions in 2008 and riots in 2009.
Al Mayadeen needs a word of exposition, too. Established as an alternative to Qatar's Al Jazeera and Saudi Arabia's Al Arabiya, both of which reflect Sunni Muslim viewpoints, Al Mayadeen has been accused by its critics of connections to the Assad regime, to Iran, or to Iran's Lebanese proxy, Hezbollah. Al Mayadeen won't identify its backers, describing them only as "businessmen." Whoever its backers are, the news service is on Assad's side.
From Al Mayadeen's perspective, the entry of Uyghur fighters and their families into Syria is part of a Turkish plot to alter Syrian demographics. An unidentified analyst appears briefly to "explain" the coming of the Uyghurs. "This confirms that terrorists continue to cross the borders, and that Turkey continues to let the terrorists and their families pass through," he says. "It proves that [Syria's] demography is being targeted, and this aggression has transformed into a colonial occupation." In other words, it's the Turks' machinations that have led Syrians to abandon their cities and villages, and it's the Turks' plan to repopulate at least some of northern Syria with jihadist Chinese Uyghurs.
But that's hardly all: The Islamic State in Iraq and Syria (ISIS) has been importing the Uyghurs as well. "The resettling of Chinese Uyghurs, and driving the Syrians out of their villages, is not limited to the Al Nusra Front and the Turkish intelligence," reports Al Mayadeen. "Two years ago, ISIS transferred thousands of Uyghur families from Turkey to the village of Abyad, in Raqqa province, and to the area around the oil fields in Deir ez-Zor, enlisting a thousand fighters from among them."
The Uyghurs' assignments include killing Russians who are aiding the Assad regime. The report focuses briefly on a child, one Abdallah Al-Turkistani, who "has been entrusted with the killing of two Russian spies. This little terrorist is not the only one who has learned how to kill. There are dozens of Chinese Turkistani children like Abdallah in the [ISIS] schools of Abu Bakr al-Baghdadi in Syria. Hundreds of the sons of the Turkistani Jihadi settlers learn to fight in training camps."
(As for the Russians, they're increasingly a presence on the region's pro-Assad airwaves, too. Syrian TV has been airing Russian-made dramas since last spring [though the programming of Russian films, cartoons, and documentaries on Syrian TV actually goes back to the Hafez Assad years]. Russian music videos—with a military theme, yet—have now turned up as well. Katusha, for example, is a new version of a Red Army song popular during World War II. As the website Al Bawaba describes it, the video "features a young Russian woman singing to her lover amid armored vehicles and describes a Russian Red Army soldier 'guarding his proud nation.'")
Of course, some people think that there is a greater Hidden Hand involved in Syria than that of Turkish Intelligence. Last month, when the Egyptian billionaire Naguib Sawiris announced a plan to purchase two islands as a haven for Syria's refugees—including those whose homes were being Uyghurized—some of the reaction in Egypt was angry. "He is helping Israel to implement its plan," charged Professor Azza Heikal, who referred to the dispossessed Syrians as "so called refugees."
Heikal believes that the Syrian nation and identity are being intentionally erased. "The Syrians should return to their country. They should live and die there," Prof. Heikal said. "I tell you, this is a Zionist-American plot. The entire region is being reconstructed. The plan is clear and is written in the Torah and the Protocols [of the Elders of Zion]."
The professor was outdone by an Egyptian TV host named Rula Kharsa, who not only urged Syrians to remain in their country to die, but also accused the refugees of treason. "Are the Syrians being led to emigrate from their land under the false pretext of fleeing terrorism? This is not merely fleeing. Whoever is leaving Syria now—I'm sorry—is betraying his country. What are you running from? This is your country. Are you fleeing death? Death can reach you anywhere. You can die anywhere. We will all die."