Baseball vs. Empire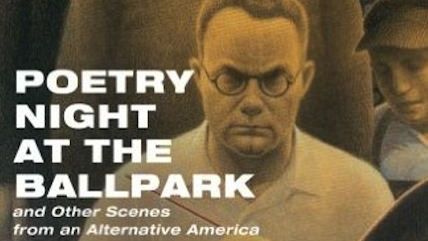 Two themes thread through the work of the historian, novelist, and screenwriter Bill Kauffman: He celebrates the eccentric textures of American life, and he condemns the imperial institutions, from city planners to conscription boards, that threaten to rub those textures out. Poetry Night at the Ballpark (Front Porch Republic Books) collects some of Kauffman's best articles in both modes, from his mid-'80s days as a reason staffer to the present.
Here jeremiads against empire and the corporate state mix with tributes to the many faces of a flourishing regional culture: poets, painters, amateur scientists, irregular old holidays, minor-league baseball squads. The title alludes to the evening the author persuaded his town's team, the Batavia Muckdogs, to fill the gaps between innings with sandlot-themed stanzas by Charles Bukowski, Grantland Rice, and other litterateurs. "It went over as disastrously as you'd expect," Kauffman concedes. But the flop didn't dent his fondness for either lively, local ballgames or lively, local verse. —Jesse Walker
This article originally appeared in print under the headline "Baseball vs. Empire".