Russia Launches Airstrikes in Syria, Earns Criticism From U.S.
U.S. says it makes the conflict riskier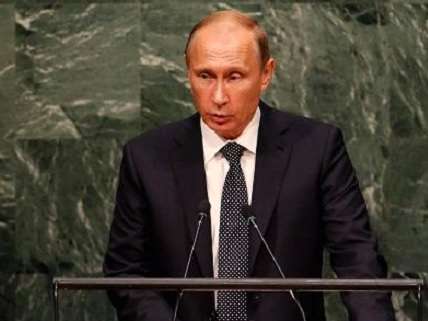 Russia launched airstrikes in Syria today, a first in its intervention in the long-time client state. U.S. officials criticized the strikes, saying they added risks to the conflict of Syria, even as Russia insists it is targeting positions held by the Islamic State in Iraq and Syria (ISIS), a terrorist group that calls itself a caliphate against which the U.S. is also trying to lead a coalition.
Where Russia and the U.S. differ is that Russia would like to keep Bashar al-Assad in power in Syria as president. The Russians argue Assad is the best option for returning stability to Syria. It's an open question. The U.S. assertion that stability can only be achieved by Assad's ouster is a trickier one. In recent history—Saddam Hussein in 2003 and Moammar Qaddafi in 2011—the ouster of a regional strongman contributed to more instability, not less.
Russia says the Syrian civil war is a national security concern for them because many Russian Muslims are going to Syria to fight with ISIS. Russia also has a naval facility it leases from Syria in Tartus, which gives the Russian military access to the Mediterranean. The base doesn't come up as often as the loftier national security concern of fighting terrorism.
The U.S. stake in removing the Syrian president is less clear. A brutal dictator, Assad's not the only one in the world or even in the region. Yet, despite a clear stake, the U.S. insists a political solution in Syria must include Assad's removal.
That intransigence might be part of the reason why Russia was able to secure an anti-ISIS intelligence cooperation agreement between Syria, Iraq, and Iran while keeping the U.S. out of the loop. Despite being a serial human rights violator, Assad is the only actor in Syria who can credibly muster an opposition to ISIS, and even he's failed there.
Similarly, while both the U.S. and Iran are interested in driving ISIS out of Iraq, longstanding political conflict between the U.S. and Iran has prevented the two countries from coordinating their efforts. The U.S. has accused Iran of meddling in Iraq during the 2003-2011 Iraq war—from Iran's perspective between 2001 and 2003 the U.S. launched military operations against both of Iran's neighbors while spurning efforts by Iran (whether or not they were made in good-faith) to engage the U.S. about terrorism after 9/11. Both of Iran's neighbors are less stable now than they were fourteen years ago.
Vladimir Putin, the president of Russia, drew some of the connections between U.S. intervention in the Middle East and North Africa and a rise in Islamist terrorism in an address to the United Nations this week. It's not a new analysis. The appearance was his first at the international body in more than 10 years. His goal was largely understood to be building support for Russian intervention in Syria. He also asked to meet President Obama on the sidelines, which Obama agreed to. The two countries reportedly agreed to keep lines of communication open while operating in Syria.
Amid all this the Pentagon's top official on Russia resigned last week. That followed the resignation of Obama's ISIS czar. At the UN, President Obama alluded to domestic critics who warn that a resurgent Russia is a sign that a new cold war is starting. He should probably concern himself more with the way foreign powers are interpreting his foreign policy doctrine, or lack thereof, moreso than the way his domestic political opponents interpret it. In 2012 when Mitt Romney said Russia was America's greatest geopolitical foe he was half right. Conflict, cold or hot, with Russia isn't inevitable just because Russia is trying to play a larger role in foreign affairs. But that doesn't mean it's not a geopolitical force that will have interests that don't always align with America's. Denying the possibility of a cold war as a fantasy of mean-spirited domestic opponents denies that basic geopolitical truth.