Colombian Guerrillas and Government Reach Agreement in Peace Negotiations
Colombia's President and its largest Marxist rebel group announce breakthrough, paving way for end to nearly six decades of conflict claiming over 200,000 lives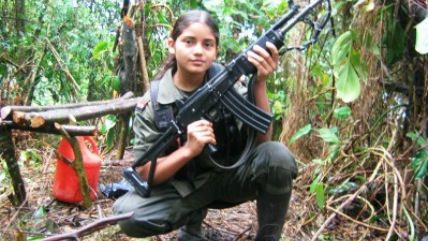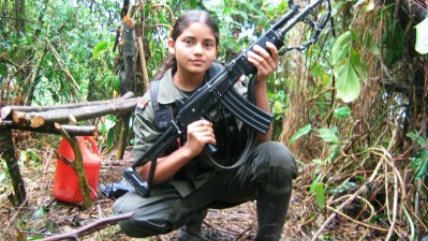 The leader of Colombia's largest Marxist rebel group, FARC, joined Colombian President Juan Manuel Santos in Havana on Wednesday to announce a breakthrough in peace talks, which have been taking place in the Cuban capital since November 2012. The Wall Street Journal reports:
Mr. Santos, in a brief address after meeting with the man he had battled for years, Rodrigo Londoño of the Revolutionary Armed Forces of Colombia, or FARC, said the two sides had finally agreed on a framework for investigating rights abuses, punishing guerrillas for their involvement in those crimes and offering compensation to victims. With an accord on that point, a major obstacle for months, the path has been cleared for the signing of a peace pact six months from now and, two months after that, the start of disarmament, the two sides agreed.

The announcement by the two men marks a major step toward ending the hemisphere's last guerrilla conflict, which has claimed some 220,000 lives and led many rural Colombians to uproot and move to urban slums.
The conflict between the government and the rebels has raged on for nearly six decades without abating, but even so, some human rights groups have criticized the current peace talks for being too lenient on FARC. Human Rights Watch notes the heinous nature of the group's crimes, emphasizing that the rebels have displaced 150,000 rural Colombians per year and that over 80% of those killed in the guerrilla warfare since 1958 have been civilians.
Still, over the course of the three-year negotiation, the talks have come to focus on reparations for victims rather than punishment for offenders. From the WSJ:
Crimes will be investigated by a specially designated Tribunal for Peace, made up of Colombian and some international judges. The tribunal will collect testimony and evidence, ensure victims are compensated and that sanctions are delivered to those who committed serious crimes, such as mass killings.
Negotiators are quick to point out that large hurdles still remain to a final agreement, and if it is reached, it still will have to be approved by Colombians via a referendum or another political mechanism before it can take effect.
In the meantime, for more on creating peace in Colombia and elsewhere through dialogue and free markets rather than conflict, watch my recent Reason TV story about ex-special ops commandos who went from conducting night raids to selling flip flops: These Vets Think There Is a Better Path to Peace: Selling Flip Flops.