'Uber for Helicopters' Offers to Help New Yorkers Beat Pope-Related Traffic
Flight-sharing app takes off...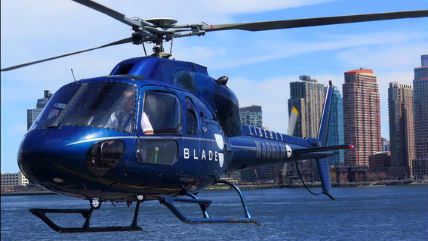 (From Blade's Twitter @FlyBladeNow)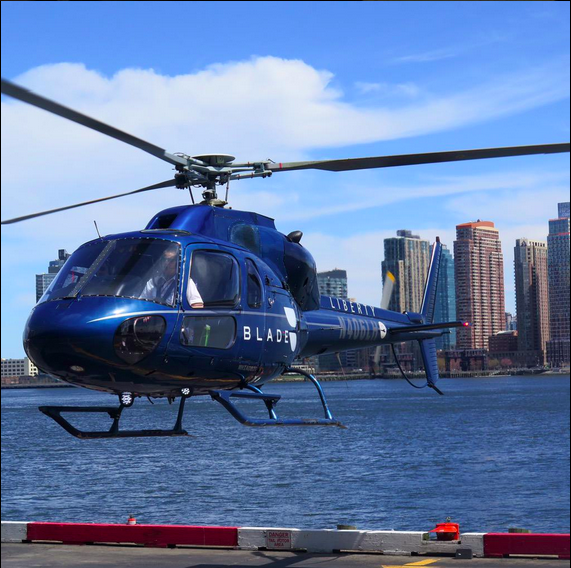 Pope Francis has a busy travel itinerary in New York City today. He addressed the United Nations (U.N.) on the East Side this morning, hosted a multi-religious service at the 9/11 Memorial in Lower Manhattan right after that, will soon be visiting a parochial school in East Harlem, and has plans to say Mass at Madison Square Garden at 6 o'clock tonight. On top of that, more world leaders than ever before are in Manhattan for the ongoing U.N. summit, so crosstown traffic is likely to be less than beatific.
With $95 and a smartphone, though, New Yorkers can ascend to the heavens, or at least take a convenient 5- to 8-minute hop between 1st and 12th avenues, in a chartered helicopter from a startup called Blade.
Blade, which is like Uber but for short helicopter flights, is accessible via smartphone app. Typically the company takes passengers from Manhattan to the Hamptons (starting at $595 per seat seat) and other outlying vacation spots (about $650 seat), or to metropolitan airports ($895 seat) to meet connecting flights. The service also lets users crowdsource seaplane flights to almost anywhere in coastal New England.
But during the morning and afternoon rush hours today, The Verge reports and a peek at the app confirms, Blade arranged to offer flights to effectively whisk passengers 2.3 miles across the width of Manhattan (though they'll actually travel a route around the island's southern tip because of security concerns).
While the move has garnered a lot of publicity for overlapping with Pope Francis' visit to the city, according to Blade the idea actually came from "popular demand by our users." The app confirms that demand is there: Some flights for this evening have already sold out.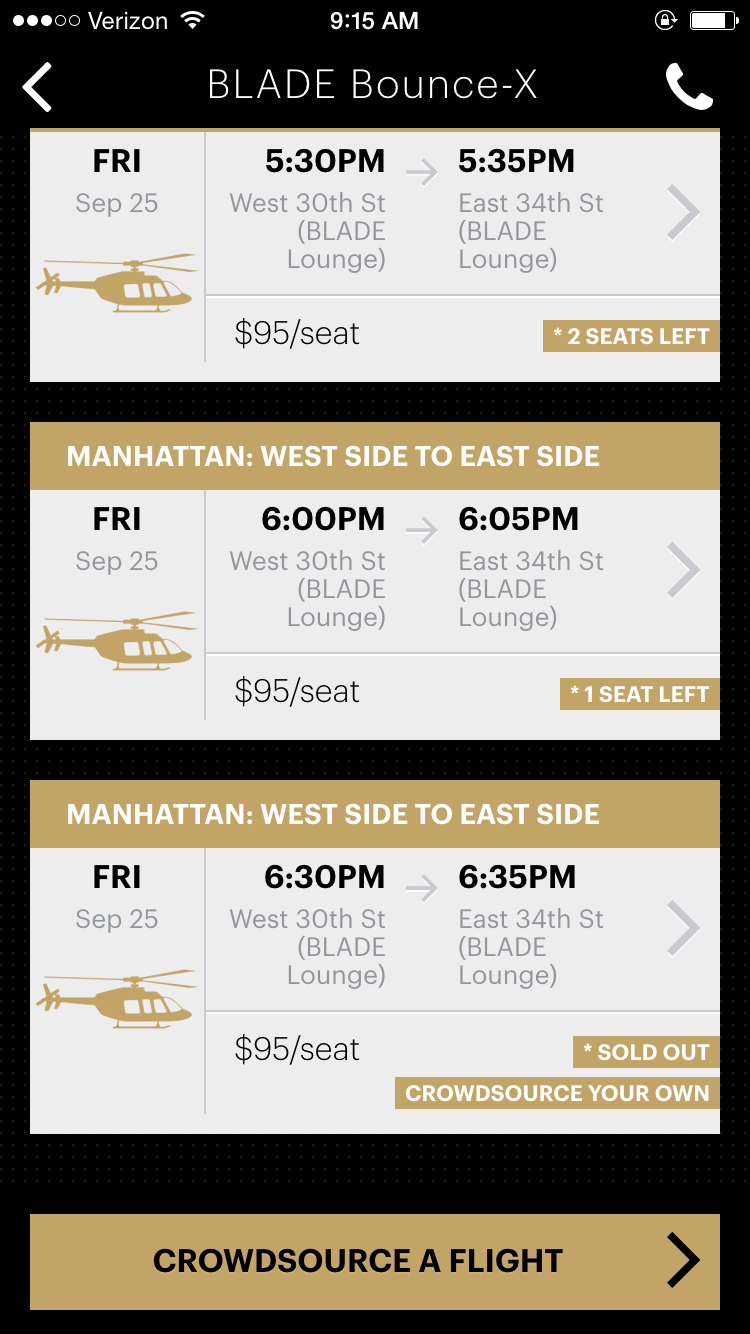 Where Uber inspired backlash from the cab industry and regulators, Blade has mainly rankled Hamptons homeowners, some of whom can hear the choppers setting down and taking off from their property. Responding to a sharp uptick in noise complaints, East Hampton officials tried restricted heli-flights into their airport.
Supporters fought back by establishing an advocacy group called "Friends of East Hampton Airport," hiring public relations titan SKD Knickerbocker, and suing the town. This summer the Federal District Court in Central Islip issued a preliminary injunction in favor of the aviators, saying the restrictions would cause irreperable harm to flight businesses. The town appealed the injunction, and the two parties reportedly entered into mediation last week.
Blade customers may be able to avoid the agony of midtown congestion with a seraphic commute by helicopter, but they'll nonetheless face the temporal inconvenience of a Transportation Security Administration (TSA) screening before boarding. The bureaucracy says it has tightened security accross New York for the meeting of world leaders.