Carly Fiorina Both Man's and Woman's Candidate In Republican Polls
Her recent rise to the top tier of Republican presidential candidates is predicated on gender neutral appeal.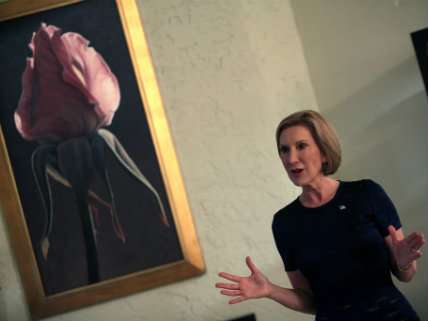 One interesting aspect of Carly Fiorina's recent rise to the top-tier of Republican presidential candidates is her apparently gender-neutral appeal. The only woman in the large (but thinning) pack of potential GOP nominees, Fiorina polls similarly among both male and female conservatives. 
In a CNN/ORC International poll conducted last week, Fiorina was the top candidate for 17 percent of female Republican respondents and 14 percent of male respondents. In the CNN/ORC poll before that, Fiorina polled at 3 percent with both men and women. In a poll released a few days before the second Republican presidential debate, she was favored by 6 percent of female and 5 percent of male Republicans.
"The numbers look stunningly different from the Democratic side of the presidential fight, where… Clinton holds a big advantage among female voters," points out Dante Chinni at the Wall Street Journal. Clinton "consistently holds a sizable lead among women voters–20 points or more in recent Marist polls in Iowa and New Hampshire." 
The New York Times last week suggested that Fiorina could offer "a credible antidote to the gender gap and the Democrats' claims of a Republican 'war on women.'" (See my own take on Fiorina's role in Republican gender optics here.) More from the Times piece: 
Winning the female vote is challenging for any Republican. Women have traditionally identified strongly with the Democratic Party, while male voters are split between the two parties.

The largest gender gap ever was recorded in the 2012 presidential election: 20 percentage points, according to Gallup. Mitt Romney won among men by 8 percentage points while President Obama won women by 12 percentage points over all. But among white women, Mr. Obama lost with just 42 percent to Mr. Romney's 56 percent.
The Washington Post's Dana Milbank protests that there's no "no evidence" Fiorina—"the CNN-created flavor of the week"—will attract women to the GOP fold "any more than (Herman) Cain brought African Americans." But that doesn't preclude her polling better among Republican women than many of her male counterparts, which could be critical in these early stages. Right now she doesn't need to syphon off women who lean Democrat or independent; she just has to convince registered Republican voters of the female persuasion that she's the best woman for the job. 
Sen. Claire McCaskill, a high-profile Democrat from Missouri, recently said she would "be surprised if (Fiorina) were not selected to be the VP in a campaign where Hillary Clinton is the nominee." But CNN's Julian Zelizer notes that Fiorina "hasn't shown any interest in the vice presidential slot and her supporters say she's running for president, not the second spot," despite the fact that pundits have roundly declared as if on that one. 
I talked about Fiorina's business record and political chances on HuffPost Live yesterday, in a segment starring Jeffrey Sonnenfeld, senior associate dean for leadership studies at Yale University. Sonnenfeld was name-dropped by Donald Trump during the second Republican presidential debate as someone highly critical of Fiorina's term as Hewlett-Packard CEO, criticism he reiterates here. I suggested that Fiorina's HP record isn't going to be a terrible liability among Republicans, but will be used against her by Democrats. Check that out here. And find more Reason coverage of Carly Fiorina here.