Carly Fiorina Won Tonight's GOP Debate With This One Moment
The former tech exec took down Trump with a single, killer line.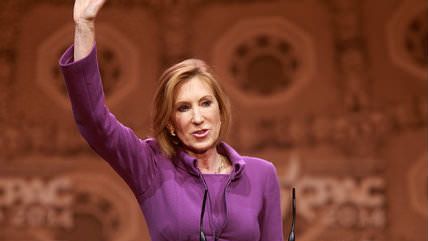 Carly Fiorina barely made it into tonight's GOP presidential debate, but she's being declared the night's biggest winner. It had a lot more to do with how she presented herself than with the specifics of what she said. Regardless of whether you liked the content of her answers, she seemed more polished and prepared than any other candidate on stage.
She was, by far, the most confident of the candidates on stage, delivering strikingly composed responses as if reading from a teleprompter and pushing easily beyond the time limits (weakly) enforced by moderators, coming in third in total talk time. She was also more effective than any other candidate so far in attacking Trump, the frontrunner, as a failed businessperson.
But her win really comes down to a single moment, in which she was prompted to respond to Donald Trump's recent insult about her appearance. Here's how that exchange went down:
Debates, especially with an entertainment figure like Trump in the race, are as much—arguably much more—about stagecraft, polish, presentation, and drama as they are about policy substance. And Fiorina pulled this moment off perfectly.