Professor Killed at Mississippi College, Schwarzenegger Replaces Trump, Clinton Has Email Gaps: P.M. Links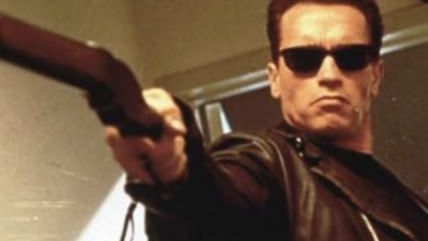 "Terminator"

A professor was shot and killed at Delta State University in Mississippi. The school was on lockdown Monday afternoon, and police are seeking a geography instructor at the college for questioning.

Arnold Schwarzenegger will be replacing Donald Trump as the new host of Celebrity Apprentice. They should have put Omarosa in charge. She'd fire everybody the first day and declare herself the winner.
So, there's four months of gaps in Hillary Clinton's emails according to communications from within the State Department. (Update: A state department spokesperson has said they've filled in that gap.)
Seattle's public school teacher strike is in its fourth day, and community centers are doubling as child-care facilities.
One person is dead and hundreds of homes have been destroyed in wildfires in Northern California. Gov. Jerry Brown has declared a state of emergency.
China's stock market continues to collapse. Today the Shanghai Composite dropped 2.7 percent, and the Shenzhen Composite fell 6.7 percent, their biggest drops in three weeks.
New at Reason
Follow us on Facebook and Twitter, and don't forget to sign up for Reason's daily updates for more content.