EU Ministers Meet to Discuss Migrant Crisis as Germany Reimposes Border Controls, Egyptian Security Forces Kill 12 Tourists, Kim Davis Back at Work: A.M. Links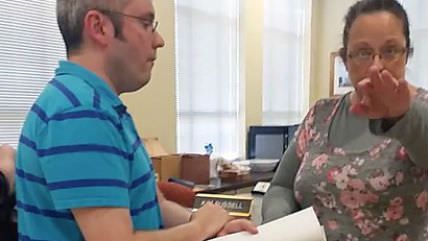 Photography is Not a Crime

Interior ministers from the European Union are meeting in Brussels today to discuss the migrant crisis as Germany re-imposed border controls, saying it can't handle the thousands of asylum-seekers that are arriving daily.

Government forces in Egypt fired on a  tourist convoy, killing at least 12, while pursuing Islamist militants in the Western Desert.
The Liberal Party in Australia elected Malcolm Turnbull its new leader, meaning he wil also replace Tony Abbott as prime minister. Meanwhile, the Labor Party in Greart Britain elected Jeremy Corbyn as its new leader, but he's not expected to be able to actually win a national election.
The federal government launched a website providing scorecards for colleges, without the rankings President Obama said they would include when announcing the project two years ago.
The campaign of Bernie Sanders doesn't like comparisons to Howard Dean's failed 2004 bid. Hillary Clinton is polling under 50 percent nationally for the first time, fueled by a significant drop in support by white women, while Donald Trump and Ben Carson lead in the latest Republican national polling.
Kentucky county clerk Kim Davis returns to work.
Number one ranked Novak Djokovic won the U.S. Open Sunday night, defeating Roger Federer in four sets.
Three-time NBA MVP Moses Malone, the first basketball player to go pro straight out of high school, died aged 60.
New at Reason.com: