Carly Fiorina Uses Trump Dis to Her Advantage in New Campaign Ad
Yes, "look at this face," Fiorina demands.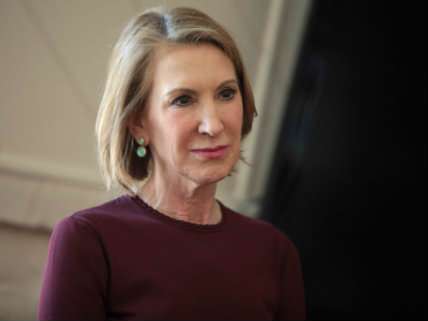 A new Carly Fiorina ad* puts a positive spin on fellow GOP presidential contender Donald Trump's recent looks-based critique of the rapidly rising candidate. In an interview published in Rolling Stone last week, Trump said of Fiorina: "Look at that face! Would anyone vote for that? Can you imagine that, the face of our next president?!" In her new ad, Fiorina echoes Trump's words but without the scorn, instead intoning with a commanding, defiant voice:
Ladies, look at this face, and look at all of your faces. The faces of leadership. The face of leadership in our party—the party of woman's suffrage. The face of leadership in your communities, in your businesses, in your places of work and worship. … This is the face of a 61-year-old woman and I am proud of every year and every wrinkle.
Fiorina and Trump will share the stage at this Wednesday's Republican presidential debate on CNN. "Their showdown is emerging as one of the most intriguing subplots of the second debate," wrote Amy Chozick and Patrick Healy today in The New York Times. "Fiorina started her long-shot candidacy by taking direct aim at (Hillary) Clinton, but she now appears poised to be the best candidate to bring out the side of Mr. Trump that has drawn accusations of misogyny—a tactic some Republicans hope Mrs. Fiorina will embrace on Wednesday." 
Fiorina has remained remarkably composed throughout her campaign so far, not shying away from responding to attacks directly but also avoiding the petulance ascribed to Sen. Rand Paul (R-Ky.) or the anger some other candidates are given to indulging. If she can keep it up Wednesday, it could be even more to her advantage in contrast with Trump's temper and bombast. Of course, those traits are why Trump fans love him, so Trump, too, could benefit from a Fiorina showdown. In any event, it should be good spectacle. In the meantime, check out Fiorina's new ad, "Faces":
* I previously stated that the ad came from Fiorina's campaign; it's actually from the Fiorina super PAC Carly for America.