Global Deforestation Rate Has Fallen by Half Says New Report
And there are far more trees than researchers previously thought - more than 3 trillion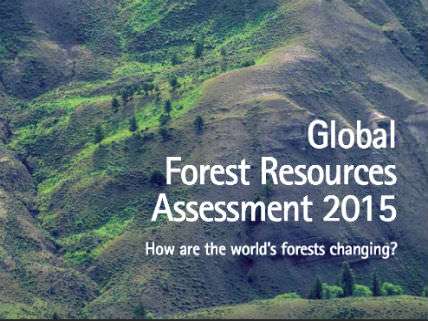 Every five years, the United Nations Food and Agriculture Organization issues its Forest Resources Assessment. The latest report finds that even has world population has increased and global economy has expanded, the overall rate of deforestation has slowed significantly since 1990. From the report:
Over the past 25 years forest area has changed from 4.1 billion ha to just under 4 billion ha, a decrease of 3.1 percent. the rate of global forest area change has slowed by more than 50 percent between 1990 and 2015 (table1). This change results from a combination of reduced forest conversion rates in some countries and ncreased forest area expansion in others. It appears that net forest area change has stabilized over the past decade. This is an important development given the fact that wood removals in 2011 are about 200 million cubic meters higher per year than in 1990 and human populations have grown during this period by about 37 percent.

Annual forest change from 2010 to 2015 demonstrates positive change: a reduction in forest loss rates. …

The decrease in net forest loss rates in the tropics and subtropics, combined with stable or moderate increases in the temperate and boreal zones, suggests that the rate of forest loss will probably continue to decrease in coming years.
Below are charts listing the ten countries in which forests are expanding most and the ten that are losing the most.
FRA
FRA
So how many trees are there on the earth anyway? As the Washington Post reported last week, a new study in the journal Nature answers this question:
In a blockbuster study released Wednesday in Nature, a team of 38 scientists finds that the planet is home to 3.04 trillion trees, blowing away the previously estimate of 400 billion. That means, the researchers say, that there are 422 trees for every person on Earth.

However, in no way do the researchers consider this good news. The study also finds that there are 46 percent fewer trees on Earth than there were before humans started the lengthy, but recently accelerating, process of deforestation….

The study shows that trees are most prevalent in the tropics and subtropics – home to 1.39 trillion trees – but that boreal or northern forests contain another .74 trillion, and temperate forests contain .61 trillion. It also suggests, rather surprisingly, that boreal and tundra forests often have a greater tree density than tropical ones.
The Post article seems to imply that fewer trees is necessarily a "bad thing," but where would we humans put our farms and cities if all of the forest primeval remained?
Interestingly, the FAO forest assessment finds that the global rate of deforestation is decelerating, not accelerating.
The researchers in Nature believe that on net humans are cutting down 10 billion trees per year. At that rate it would take over 300 years to cut all of the world's forests down. For those worried about deforestation, the good news reported in my new book, The End of Doom: Environmental Renewal in the Twenty-first Century, is that humanity has likely reached peak farmland. As a consequence, forests around the world will be expanding by hundreds of millions of hectares over the next several decades.