Cops Say Indiscriminate Murder of Texas Deputy Sign of a 'Different World,' But It's Not Different the Way They Think
Cops are under more scrutiny than before, but there isn't a rise in killings, and it's probably never been safer to be a cop.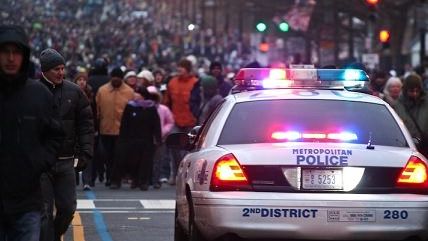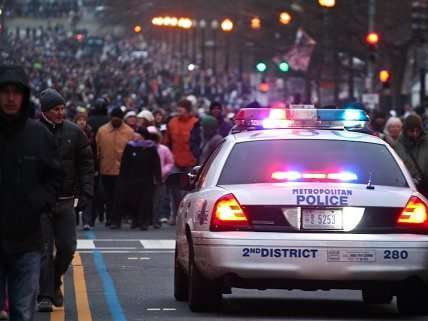 Last Friday, Darren Goforth, a deputy sheriff in Harris County, Texas, became the 23rd non-K9 officer shot and killed in the line of duty in 2015, according to the Officer Down Memorial Page (ODMP), which collects information about police line of duty deaths and includes K9s on their lists. Police say they haven't found any motive for Goforth's murder. They have apprehended a suspect, who was charged with capital murder, and believe the attack to have been unprovoked. It was the 6th fatal shooting of a police officer in August. Through the end of August last year, according to ODMP, 30 non-K9 officers had been gunned down in the line of duty. A total of 45 police officers were shot and killed in 2014. The number's ticked upward over the last few years, but that's down from recent highs too. In 2007, there were 67 cops shot and killed in the line of duty. In 2007 there was no "national conversation" about police reform, no sustained focus on criminal justice reform, nothing in the national zeitgeist that would suggest the number of murders were the result of anything more than the number of people who had killed cops that year.
Not so in 2015, where there are sustained police reform movements around the country, where criminal justice reform is being treated like a national political issue, and where federal oversight of local police officers gets mainstream media attention. In that environment, the brutal murder of a police officer becomes indicative of something more than there being a brutal murderer who killed a cop. It's indicative, as the Los Angeles Times quoted in its headline, of a "different world."
Cops are aware of the statistics showing that there is, decidedly, no spike in police killings. But, via the Times:
Statistics compiled by the FBI show the number of officers "feloniously killed" each year has fluctuated somewhat over the last decade, but it stands at about 50.

Numbers, however, don't tell the whole story, police said. Whether or not violence toward police is up this year, officers said attacks on law enforcement are playing out in a new atmosphere of amplified animosity, in which cops are routinely vilified — fairly or not — by a public on Twitter, YouTube and other social media sites.

The atmosphere surrounding recent incidents of police violence "is more dangerous," said Deon Joseph, a Los Angeles police officer who has spent 17 years working on the city's skid row. Social media now have "the capability of influencing millions with truth and embellished versions of it with the click of a button," he said, and "more people want to hear the sensationalized version than the truth."
Opportunists have used Goforth's coldblooded murder specifically to try to discredit Black Lives Matter, a race-based police reform movement that has pushed non-race-based police reforms, as a "murder movement," since Goforth's alleged killer is black.
The LA Times also mentioned two incidents of police officers being killed in Louisiana in August, and an incident in Mississippi where two cops were gunned down during a traffic stop. Louisiana state trooper Steven Vincent was shot and killed while trying to offer assistance to a truck in a ditch. His alleged killer is also accused of an earlier murder. He was apprehended in large part thanks to a passerby who approached the scene despite being warned by other locals that there was a man with a gun. Henry Nelson, the other Louisiana police officer, was killed while responding to a domestic violence call. Both are tragic murders, but neither fits even loosely into an anti-police reform agenda.
Goforth's does, so it's going to be exploited. The LA Times again:
The scrutiny, some say, is coming in many forms. The U.S. Justice Department is overseeing the operations of several major police departments across the country; police are being sued, investigated, arrested and indicted; a routine traffic stop may be recorded by dashboard video, body camera or a nearby cellphone; an officer in full uniform can get shot while filling up his vehicle at a gas station. None of these are new, but their frequency and the ongoing national debate over policing have crystallized into a sense of being under siege on all fronts, officers said.

"Day to day, you're a little more aware of your surroundings, you're a little more skeptical of people," said Rick Perine, a 17-year veteran of the Mesa, Ariz., Police Department.

Perine said he has found himself being "hyper-vigilant" since the killings in December of two New York City police officers, who were ambushed in their patrol car. Their killer had boasted on social media that he planned to kill cops in retaliation for the deaths of Brown and Eric Garner, who died during an arrest by officers in Staten Island, N.Y. Garner's and Brown's deaths — coming three weeks apart in 2014 — became part of a growing public outrage toward law enforcement.

"These days, if I don't know you, I'm going to be extra guarded around you," Perine said. "It is a different world."
But it's not a different world, at least not in the sense Perine means. Where there have been more prominent indictments and prosecutions of police officers for misconduct and brutality, that may or may not be a sign of a rise in accountability—it's too early to tell. The Times acknowledges there's nothing new about DOJ investigations, police lawsuits, recording of police officers, or killings in the line of duty. The claim that there's a difference in "frequency" requires citation. Certainly, these things may be getting more attention, but there's no evidence of it happening more often. The DOJ, for example, has been investigating police departments around the country regularly for nearly two decades. Dashboard cameras are almost ubiquitous, and the rollout of body cameras precedes them becoming a policy point for police reformers. There's also ample evidence body cameras improve policing and make police officers safer.
Which leaves the "ongoing national debate." That debate, in a "democratic society," ought to be welcomed by "public servants," not feared by them. And the tragic murder of a public servant shouldn't be exploited to shut down the kind of debate that could make policing even safer.