Carly Fiorina Will Likely Qualify for Main CNN Republican Debate
Rules change means that recent polling will count.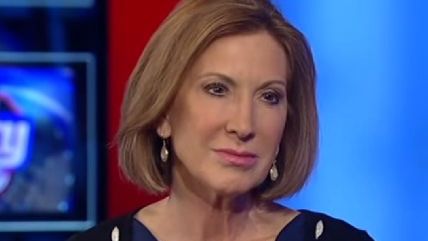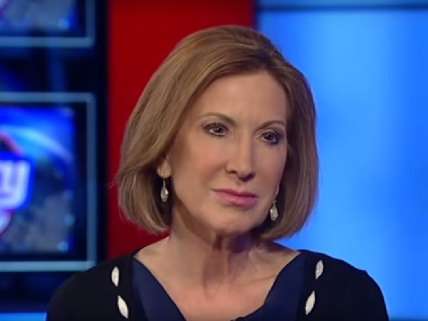 Carly Fiorina will join ten other candidates on the main stage of CNN's Republican presidential debate, according to The Washington Post.
The news constitutes a major victory for Fiorina, who was presumed to be excluded from the main event on September 16. CNN modified its criteria to include more recent polling data, which will almost certainly give Fiorina the boost she needs to qualify.
Many conservative journalists and Republican activists—including Fiorina herself—had called on CNN to amend its original criteria, which heavily weighted early polling conducted before the Fox News debate on September 6. Fiorina was widely seen as the winner of the JV event, if not the entire night, and has enjoyed a bump in the polls ever since. [Related: Carly Fiorina Eviscerates Ghost of Donald Trump, Wins Fox News JV Presidential Debate] CNN's new criteria, which permits any candidate who cracked the top 10 in more recent polls to join the main debate, better reflects Fiorina's current level of popular support. It's likely that the main debate will now include 11 candidates: the lineup from the Fox News debate, plus Fiorina.
Earlier today, National Review published an editorial calling on CNN to let Fiorina into the debate:
There's no way to defend keeping her out of the network's September 16 debate because she was not in the top ten two months beforehand. So the main counterargument being made is that it would be unfair to change the rules a few weeks before the debate. But fairness to voters should matter more than fairness to candidates, and voters appear to prefer Fiorina to whichever candidate she would be bumping.

Fiorina makes a strong case that she ought to be allowed to participate in the next debate. CNN should relent.

Relent they have.
It will be interesting to see whether Fiorina is more successful than her rivals at challenging Donald Trump. During the earlier debate, in which Fiorina and Trump did not appear together, she lambasted him for taking phone calls from Clintons. Trump, meanwhile, has tweeted that listening to her "gives him a massive headache," and "she has zero chance."