Oath Keeper Who Called for #BlackOpenCarry March in Ferguson Leaves the Group, Plans His Own March; Oath Keepers Say the Original March Will Proceed
Dueling demonstrations?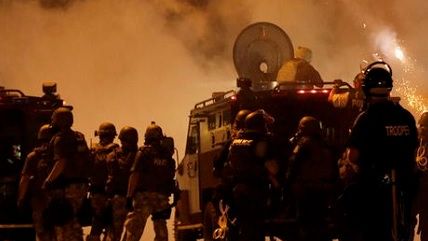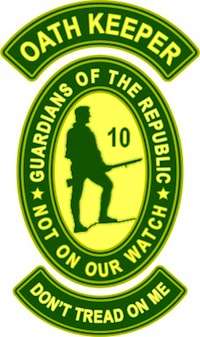 Two weeks ago, Sam Andrews announced that the Oath Keepers, a group of current and former members of the military and police who have pledged to refuse unconstitutional orders, were going to sponsor a march of black men armed with AR-15s in Ferguson, Missouri. Now Andrews has left the organization, charging Oath Keepers founder Stewart Rhodes with holding a "racist double standard" for when it's acceptable to confront cops. Rhodes strongly denies this, calling Andrews a "lying sociopath" with a "personal vendetta." And both the Oath Keepers and Andrews' circle—dubbed the YETIs, for You Exterminating Tyrant Ideology—say they still intend to hold a #BlackOpenCarry march in Ferguson.
In other words, we could end up with not one but two armed demonstrations in the town at the heart of recent debates over police violence. That said, both Rhodes and Andrews seem to expect the other man's plans to fizzle: Andrews claims that Rhodes has "no one capable of organizing the march," and Rhodes reacts to Andrews' protest plans with a sardonic "we'll see how that works out."
So what happened?
Andrews has a long litany of complaints about Rhodes' management of the Oath Keepers, not all of them related to the Ferguson protest. But the dispute over the Missouri march reached its boiling point after Newsweek quoted Andrews saying this:
"They don't know how to react to the abuse, so they throw rocks and bottles and do other silly stuff, but we are flying black Oath Keepers in from around the country to educate the black leaders and the people of Ferguson that not only can you open carry, you should open carry," he says. "The peaceful protesters, the lawful people which make up the vast majority of protesters, should be quietly standing there with rifles, saying: 'We're not going to take this abuse anymore.'"

"It's one thing to say, "I hate you, and I throw a rock at you,'" he continues. "It's another thing to stand there and say, 'Don't screw with me anymore,' and be able to back it up."
This led to an email exchange in which Rhodes said he was "getting backlash from within the gun rights community itself, because of the erroneous perception that we are intending on arming the rioters"; he told Andrews he should "emphasize us training and organizing the peaceful, law abiding to protect themselves and stop the looting and arson themselves, not confront the cops."
"He could not take constructive criticism," Rhodes contends. "All we were doing is saying, 'Look, Sam, don't make it sound like we're gonna arm violent people who were rioters. We're gonna arm the good people of Ferguson, to stand up for their rights against the police and to control the hoods.'" Invoking a notorious recent crime in the town—the death of Jamyla Bolden, a nine-year-old girl hit by a stray bullet while she did her homework—Rhodes says: "The false choice we're being presented with is, either you put up with thugs running your streets and killing nine-year-old kids and looters and arson, or you get a police state. And we think there's a third way, it's the Founders' way, which is the people themselves being the militia."
Andrews charges Rhodes with hypocrisy, complaining that the man "was perfectly willing to 'confront the cops' at Bundy Ranch, but is unwilling to say that when it is black people arming themselves to 'confront the cops'"; he argues that Rhodes refuses to acknowledge "that St. Louis County and St. Louis City police are serial rights violators on a daily basis." Rhodes insists that he was only talking about what Andrews should emphasize, and that he would not object to armed Ferguson protesters who conduct themselves like the armed protesters at the Bundy standoff. ("At the Bundy ranch, thank God, no shots were fired," he says.) When I ask whether he thinks the St. Louis police are indeed "serial rights violators on a daily basis," he replies: "Of course they are. It's a problem across the country. Not just against black people, but against everybody. They start acting like thugs behind badges." But the chief goal of the open carry march, he believes, should be to encourage self-policing. "Whether it's fair or not, if people are looting and there's arson going on, that takes the focus away from the issue at hand, which is police abuse of power. To keep the focus on where it should be, we want the people of Ferguson themselves to make sure that they stop the looters."
The bottom line for Andrews is that "the law enforcement side of [Rhodes'] board and membership are racist, and he does not want to lose their money." Rhodes rejects that idea angrily and accuses Andrews of sounding like the Southern Poverty Law Center, a group that frequently paints the Oath Keepers as a bunch of dangerous extremists. In Oath Keeper circles, being compared to the SPLC is a mortal insult.
So what will happen with the marches? Andrews claims his demonstration is "already organized" and that he expects "hundreds" of people to be a part of it, but he did not respond to my inquiries about when it would take place. Rhodes was also unwilling to commit to a date, but he was more expansive on what has to happen before a day can be set.
"We have to see how the response is in the community," Rhodes says. He has started asking black members of his group to come to Ferguson to help find local volunteers, going door to door and gauging people's interest. After that, he says, they can call a community meeting, train people in the use of the weapons, get all the necessary permits, and finally hold a march. "But the whole point, really, is what happens after the march," he adds. "It's not about doing something on one day. We want to see them standing up—armed neighborhood watches, in their neighborhoods, to take care of their own neighborhoods. So they don't need any police presence. Hell, they might even be able to disband their police department….If they don't trust them, step up and take care of your own people."
One black Oath Keeper who plans to help is David Berry, a Navy veteran studying political science at UNLV. An Oath Keeper since 2009, Berry is more excited about the self-policing project than the march. "It's everybody's responsibility to make sure we have a safe community," he says. "To be vigilantes about it? No—let's respect the due process of law. But it's everybody's responsibility to be involved." Berry was disturbed by the police crackdown in Ferguson last year: "They went after people as if they were the enemy. And that's something that's pervasive throughout law enforcement, you know, with the extra money they've been getting from Homeland Security and doing military-style training." Blaming the town's riots on "small pockets of people" in the crowds, Berry argues that their activities undermined the cause: "They gave justification to law enforcement to employ certain tactics."
We'll have to wait to see how substantial a march either the Oath Keepers or the YETIs will be able to muster. By the time that's clear, we may also have a sense of how many people besides Andrews are leaving the group. You won't be surprised to hear that Andrews and Rhodes disagree about that too. Andrews tells me that thanks to a host of poor decisions on Rhodes' part, "state and chapter leaders are bailing out of Oath Keepers all around the nation." For Rhodes, meanwhile, any mass exodus "exists only in Sam Andrews' brain."