Fraternity Writes, 'Hope Your Baby Girl Is Ready for a Good Time.' Anti-Sex Hysteria Ensues.
Sigma Nu's banner is protected speech. And it's not very offensive.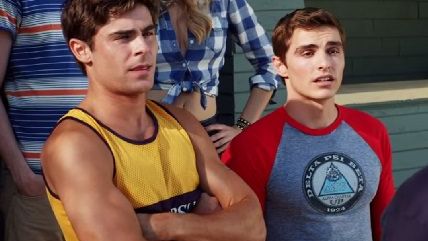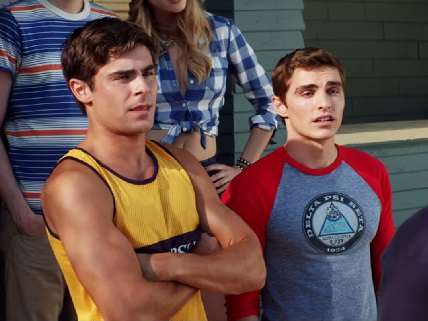 Old Dominion University has vowed to punish a fraternity for hanging three banners from a balcony bearing the messages: "Rowdy and fun—hope your baby girl is ready for a good time," "Freshman daughter drop off," and "Go ahead and drop mom off too…".
The banners appeared over the weekend at the off-campus residence of several members of the Sigma Nu fraternity, where they were spotted by many a visitor to campus and immortalized on social media. ODU President John Broderick stridently condemned Sigma Nu's actions:
I am outraged about the offensive message directed toward women that was visible for a time on 43rd Street. Our students, campus community and alumni have been offended.

While we constantly educate students, faculty and staff about sexual assault and sexual harassment, this incident confirms our collective efforts are still failing to register with some. …

I said at my State of the University address that there is zero tolerance on this campus for sexual assault and sexual harassment. This incident will be reviewed immediately by those on campus empowered to do so. Any student found to have violated the code of conduct will be subject to disciplinary action.
Sigma Nu's national organization has already suspended the chapter pending an investigation, according to The Washington Post. "Any Fraternity member found to be responsible for this reprehensible display will be held accountable by the Fraternity," said a national Sigma Nu spokesperson.
Okay, but… is it actually a reprehensible display?
I'm usually in the position of defending extremely offensive speech on the grounds that it is protected by the First Amendment; when students express contemptible views, universities should rise to the challenge and try to educate them, not discipline them.
In this case, I struggle to grasp what was even so monstrous about the banners. Hope your baby is ready for a good time, oh, mom too! is certainly crude and in bad taste. But no specific person is being maligned, threatened, or disparaged. Some frat brothers are eager to have sex with girls—is this surprising? Have universities become so squeamish that students confessing their desire for sex are guilty of some kind of crime? The banners are suggestive and classless, but they're not obscene.
Associating the banners with sexual assault, as Broderick did in his statement, is a considerable exaggeration. Sigma Nu members certainly didn't threaten anyone with sexual assault; putting up some mildly suggestive signs does not constitute an act of violence. The banners don't even clear the sexual harassment bar. They aren't severe, pervasive, objectively offensive, or directed at anyone in particular.
ODU is a public university, and is obligated to extend First Amendment rights to its students. I struggle to see how these banners could possibly be classified as anything other than constitutionally-protected speech. Sigma Nu's national organization can be as hostile to crass humor as it likes, but the ODU administration has no authority to punish students for such a harmless prank.
I suspect Broderick's real concern in this matter is not preventing sexual violence—which has nothing to do with the banners—but protecting ODU's brand image. I would not be surprised to learn that administrative PR and marketing considerations undergird much of the recent neo-Victorian effort to deter students from having sex on campuses.
Update: Hans Bader, a senior attorney at the Competitive Enterprise Institute and former Office for Civil Rights lawyer, writes that the 4th Circuit Court of Appeals upheld a fraternity's First Amendment right to engage in offensive speech in a somewhat analogous case, Iota XI Chapter of Sigma Chi Fraternity v. George Mason University.