President Carter Has Brain Cancer, Grand Jury Declines to Indict N.J. Police, Bug Infestation Hits Burning Man Site: P.M. Links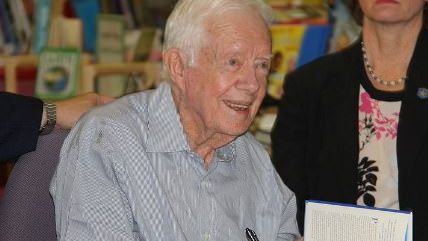 Credit: Mark Turner

Cancer in former President Jimmy Carter's liver has also been spotted in his brain. He began radiation therapy today.

A grand jury has decided not to indict two New Jersey police officers who opened fire and killed a suspect who threatened them by … stepping out of his car with his hands raised in surrender.
Birthright citizenship is the latest subject of debate among presidential candidates, even though they realistically won't be able to implement any changes should they be elected, no matter what people think about "anchor babies."
The site for the impending Burning Man festival is infested with swarms of stinkbugs, but organizers are hoping they'll be gone by the end of the month when crowds show up.
Greek Prime Minister Alex Tsipras is stepping down just months after being elected and agreeing to cutbacks in order to secure another bailout.
An Oklahoma state senator has pleaded guilty to stealing $1.8 million from the Better Business Bureau in Tulsa, where he worked, and filing false federal tax returns. He also resigned from his seat.
Investigators are going to recommend vehicular manslaughter charges against Caitlyn Jenner over her role in a deadly car crash in Malibu.
New at Reason.com:
Follow us on Facebook and Twitter, and don't forget to sign up for Reason's daily updates for more content.