The Last Consolation of Jefferson Davis
A few years ago, Congress pardoned the Confederate president but his statues and namesakes may be starting to come down.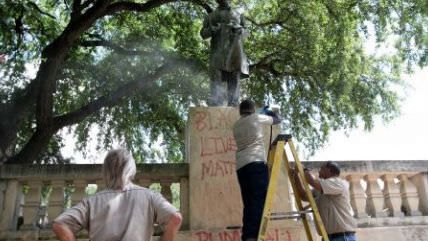 Jefferson Davis has been having a bad summer. The University of Texas has decided to move the statue of Davis that has been standing prominently on its Austin campus since World War I to a museum setting. Some folks in Georgia want the tableau on Stone Mountain that includes Robert E. Lee, Stonewall Jackson, and Davis, who served as president of the Confederacy, obliterated. Some folks in Kentucky want the statue of Davis, a native of the state, moved out of Frankfort's capitol rotunda. Some folks in Virginia want the stretch of U.S. Route 1 that runs south from the Potomac to the North Carolina border, and that has carried the name of Jefferson Davis Highway since 1922, renamed for somebody or something else. A statue of Davis in Richmond, one-time capital of the Confederacy, was recently vandalized.
These are tough times for Lost-Cause iconography of all kinds, and Davis has been having a tougher time of it than any other Confederate ghost. Davis' statue in Austin is actually part of a grouping of a half-dozen statues, three others, ncluding Robert E. Lee, being Confederate leaders. But while Lee and the other rebels will stay where they are, Davis will be carted off. UT president Gregory L. Fenves explained that, "While every historical figure leaves a mixed legacy, I believe Jefferson Davis is in a separate category".
A similar dynamic is playing out in Virginia. Though as one state legislator noted, statewide action will be "a hard lift," some officials in Arlington County (across the Potomac from D.C.) would like to take Davis' name off their stretch of Route 1. But there's a Lee Highway in the county, too, and, at least for now, that'll be staying Lee Highway. Lee, of course, was as Virginian as it gets; Davis was out-of-state.
Still, Davis' ghost can harbor one consolation in its otherwise cold and abjured isolation. It was not so long ago that Jefferson Davis was pardoned by a yankee Congress. The then-president, a Democrat, seemed quite pleased about the action, releasing a feel-good statement celebrating the full restoration of Davis' citizenship rights as a symbolic moment of conclusive reconciliation. Davis at the time was perceived by most people as having become sufficiently inconsequential in modern terms, a figure relegated to Aunt Pittypat's magnolia-scented nostalgia, that the action inspired little attention and less outcry.
Jefferson Davis' rights of citizenship were restored on October 17, 1978. He was the last Confederate whose rights were curtailed and the last to have them posthumously restored. President Jimmy Carter's satisfied statement on signing the act are in rather dramatic contrast with the current anti-Davis Zeitgeist.
"In posthumously restoring the full rights of citizenship to Jefferson Davis," Carter's statement read, "the Congress officially completes the long process of reconciliation that has reunited our people following the tragic conflict between the States. Earlier, he was specifically exempted form [sic] resolutions restoring the rights of other officials in the Confederacy. He had served the United States long and honorably as a soldier, Member of the U.S. House and Senate, and as Secretary of War. General Robert E. Lee's citizenship was restored in 1976. It is fitting that Jefferson Davis should no longer be singled out for punishment.
"Our Nation needs to clear away the guilts and enmities and recriminations of the past," Carter concluded, "to finally set at rest the divisions that threatened to destroy our Nation and to discredit the principles on which it was founded. Our people need to turn their attention to the important tasks that still lie before us in establishing those principles for all people."
Clearly, the University of Texas sees it otherwise these days, since it has determined it fitting literally to single out Davis for expulsion. But then, that's because, the congressional pardon notwithstanding, "the long process of reconciliation" that Carter alluded to was, and remains, unresolved. Whether Davis had indeed "served the United States long and honorably" so as to outweigh his role in the Confederacy and his views on slavery, turns out to be precisely the point of contemporary contention. As for "the guilts and enmities and recriminations of the past" that Carter hoped would be cleared away with his signature, they're still there.
Most former confederates had been pardoned in a series of amnesties in the years immediately after the Civil War. In 1876, a universal amnesty was proposed to pardon the few high-ranking Confederate officials who had been previously excluded. But James G. Blaine, the Republican candidate for president that year, amended the proposal to exclude Davis. (Robert E. Lee had died unpardoned in 1870.) If Davis wanted a pardon, he'd have to ask for one. He wouldn't ask.
"It has been said that I should apply to the United States for a pardon, but repentance must precede the right of pardon, and I have not repented," Davis later said. He died in 1889.