Sesame Street Strikes a Deal with HBO
Does Big Bird really need subsidies to survive?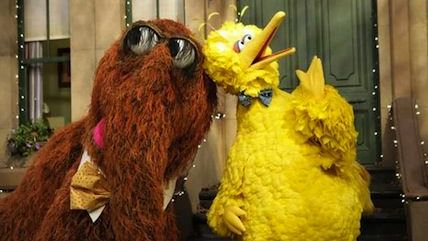 If PBS doesn't do it, who wi— oh:
Sesame Street

Sesame Workshop, the nonprofit group behind the children's television program, has struck a deal with HBO, the premium cable network, that will bring the next five seasons of "Sesame Street" to HBO and its streaming outlets starting this fall.

The partnership will allow Sesame Workshop to significantly increase its production of "Sesame Street" episodes and other new programming. The group will produce 35 new "Sesame Street" episodes a year, up from the 18 it produces now….

Sesame's partnership with HBO comes at a critical time for the children's television group. Historically, less than 10 percent of the funding for "Sesame Street" episodes came from PBS, with the rest financed through licensing revenue, such as DVD sales. Sesame's business has struggled in recent years because of the rapid rise of streaming and on-demand viewing and the sharp decline in licensing income. About two-thirds of children now watch "Sesame Street" on demand and do not tune in to PBS to watch the show.

PBS was not able to make up the difference, so Sesame was forced to cut back on the number of episodes it produced and the creation of other new material.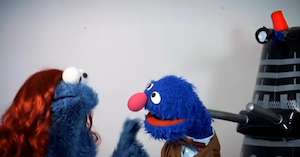 That's Emily Steel writing in The New York Times. The HBO episodes will air on PBS later in the year, so they can still be seen by people who can't afford HBO. (This isn't the cable channel's first excursion into Muppetdom, by the way: Back in the '80s, it was the American home of Fraggle Rock.)
Bonus link #1: Here's a piece I wrote to mark Sesame Street's 40th birthday, focusing on the ways the show emerged from "a full-blown collaboration between commercial showmen and social engineers." Among other things, I pointed out that "Public broadcasters today react to any threat to their funding by raising the possibility that Sesame Street would be forced to fend for itself. But if there's anything on PBS that can cover its costs independently, it's Sesame Street."
Bonus link #2: Ah, but what about shows that don't feature beloved puppets? In this article I looked at three ways public TV and radio programs can support themselves without federal sponsorship. (I should also note the considerable amount of money PBS stations could make if they participate in the FCC's spectrum sale next year—a prospect that would take away some of their footholds on the traditional TV dial, but could give producers considerable resources with which to fund programming on other platforms.)