Peter Suderman Reviews Mission: Impossible—Rogue Nation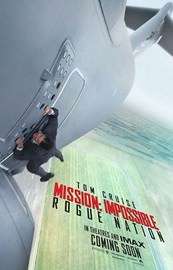 Here's the opening to my review of the latest installment in the Mission: Impossible franchise, Rogue Nation.
What is it, do you suppose, that Ethan Hunt — the protagonist played by Tom Cruise in the "Mission: Impossible" franchise — does in his downtime?

Judging by his ripped physique, he works out quite a bit, and the expensive-looking cut of his hair suggests he visits a fancy stylist with frequency. He wears expertly cut suits that suggest a long-standing relationship with a pricey tailor.

But beyond the physical, it's hard to imagine what he might be like when he's not cavorting around the world and participating in fantastically complex break-ins of famous international locations.

Does he have a personal life? Hobbies? Friends? Preferences or personal tastes of any kind?

The third film in the series briefly cast him as a married man who disguised himself as a mild-mannered government traffic analyst, but that pretense was mostly dropped in the follow-up, "Mission: Impossible — Ghost Protocol" and has vanished entirely in the latest entry, "Mission: Impossible — Rogue Nation."

Even Hunt's spy-mission teammates tend to come and go without explanation. A fellow agent played by Jonathan Rhys Meyers disappeared after the third installment; another one played by Paula Patton went missing after the fourth. Only Ving Rhames' Luther Stickell has appeared in all five films. Otherwise, Hunt is an island — a man with no obvious past or personality.

Like its protagonist, the "Mission: Impossible" series is one with no discernible inner life. It is a film franchise entirely concerned with surface and spectacle, with twists and turns that lead only to more twists and turns, and elaborately choreographed action set pieces that exist mostly for their own sake.
And, okay, I suppose that's not an entirely bad thing. For a shallow stunt-reel of a movie, it's actually pretty good. Most critics seem to agree: Rogue Nation currently has a 93 percent fresh rating on Rotten Tomatoes.
Read my complete review in The Washington Times. Read Kurt Loder's take here.