Cops Kill Concert Because Rapper Chief Keef's Hologram Somehow Threatens Public Safety
Stunning contempt for the First Amendment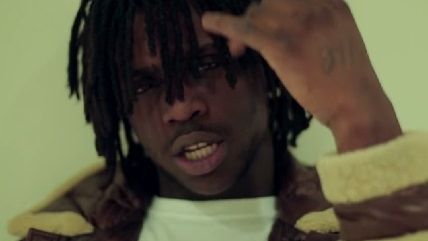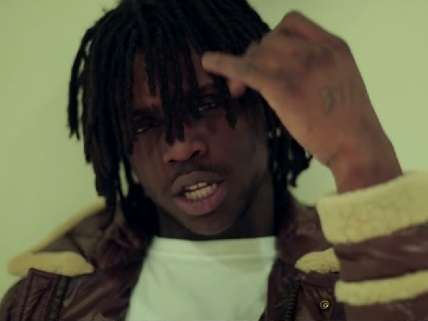 Police officers shut down a benefit concert in Hammond, Indiana, after controversial rapper Chief Keef began performing via hologram. The town's thuggish mayor attempted to justify his sorry act of censorship by lamely claiming that the rapper's views were a threat to public safety and a violation of Hammond's friendship with the neighboring city of Chicago.
Keef has a history of rapping about the gang lifestyle, according to The New York Times. He's also wanted for failing to make child support payments. He currently resides in California and opted to participate in Craze Fest—a hip hop music festival that took place on Saturday in Hammond—via hologram. He began his performance by calling for an end to violence, intending to raise money for victims of inner-city warfare.
But none of that mattered to the cops, who brought a swift end to the concert moments after Keef's image appeared on-screen:
Thomas M. McDermott Jr., the mayor of Hammond, said in an interview that his office became aware of the surprise performance, which was also streamed live online, through social media. All of the Craze Fest acts—which included Riff Raff, Lil Bibby and Tink—had been previously vetted because the event was held at a public park, he said.

"I know nothing about Chief Keef," Mayor McDermott, 46, said. "All I'd heard was he has a lot of songs about gangs and shooting people—a history that's anti-cop, pro-gang and pro-drug use. He's been basically outlawed in Chicago, and we're not going to let you circumvent Mayor Emanuel by going next door." (The Chicago mayor's office did not immediately respond to a request for comment.)…

"It's not like we're anti-rap," Mayor McDermott said. "It's just this specific case. Gang violence in Chicago is the reality right now, and I'm not going to invite someone that might be a threat to public safety."
If Keef had appeared in person, the police would have been justified in arresting him on the child support charges. But it's quite a stretch to pretend that a holographic projection of the rapper had somehow put the public at risk. Stripped of this absurd excuse, it's clear the government only censored Keef because it doesn't like his views. That's an obvious abuse of police power as well as a likely violation of the First Amendment.
The Washington Post's Eugene Volokh writes:
The government may impose reasonable content-neutral restrictions on speech in such venues, such as sound level restrictions, and may charge money for the use of the venues. But the government may not restrict speech because of its viewpoint, or the viewpoint that the speakers had expressed elsewhere, which seems to have happened here….

Unless I'm missing something here, then, this is a pretty clear First Amendment violation on the part of the City of Hammond. And it seems to me that, in America, performances by controversial singers can't be "basically outlawed," even "in Chicago."
Evidently the city of Chicago has such an antagonistic relationship with the First Amendment that even neighboring municipalities are afraid to extend free speech rights to political enemies of Mayor Rahm Emanuel. Not even holograms are safe.