Does Donald Trump News Belong in the Entertainment Section?
The Huffington Post's decision to dump Trump news among "stories on the Kardashians and The Bachelorette" proves controversial.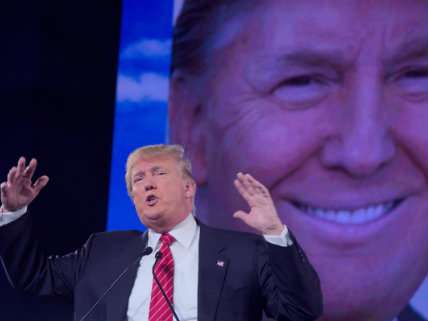 Today The Huffington Post announced that it would no longer file news related to 2016 presidential "sideshow" Donald Trump under its politics vertical, instead relegating it to the entertainment section. "After watching and listening to Donald Trump since he announced his candidacy for president, we have decided we won't report on Trump's campaign as part of The Huffington Post's political coverage," wrote Ryan Grim, the site's Washington bureau chief, and Editorial Director Danny Shea.
"Our reason is simple," they continued. "Trump's campaign is a sideshow. We won't take the bait. If you are interested in what The Donald has to say, you'll find it next to our stories on the Kardashians and The Bachelorette."
On Friday morning, The Huffington Post broadcast the decision on the front page of the site: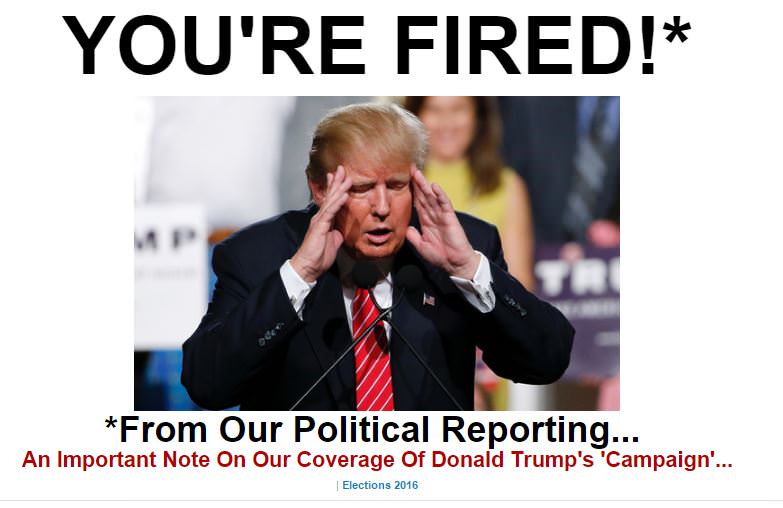 With all due disregard for the seriousness of Trump's ambitions or potential—and 75 percent of respondents in a recent nationwide poll agree that the man Matt Welch has deemed "the Idiocracy candidate" is not a serious presidential contender—is this really the right call?
Ignominious as Trump's candidacy may be, he also led the GOP pack in a recent USA Today/Suffolk University poll and the latest poll from Fox News. Among a not insignificant number of voters, Trump is very much a serous candidate, or at least more appealing than more realistic options like Jeb Bush or Sen. Rand Paul. That alone is political news. (If Kim Kardashian were polling at 17 percent among likely GOP voters, that would seem politically relevant, too.)
Journalists of various political persuasions have been critical of The Huffington Post's decision. "Whoa this is crazy. He's an actual candidate. He's polling second," offered The New York Times' Farhad Manjoo on Twitter. At Poynter's MediaWire blog, James Warren called the decision "especially dubious in an era where the nexus of entertainment and politics is often quite obvious and growing."
"ok that huffpo post triumphantly declaring trump a sideshow & not real political news discounts the fact that it is actually political news," Asawin Suebsaeng of The Daily Beast tweeted. "i wish we could discount all candidacies we think are ridiculous and dump them in the entertainment section, but that's not how this works".
"If Trump were still polling at 1 or 2 percent and reporters were covering his every utterance for clicks, okay. But he's near the top," echoed Washington Examiner Politics Editor Jim Antle. "Trump is a particularly extreme manifestation of the political-entertainment complex, but he's not the only example."
"What The Huffington Post is really saying here…is that the opinions of thousands of Americans don't matter to them," tweeted The Daily Beast political reporter Olivia Nuzzi. "It is not up to The Huffington Post or any other publication to decide which candidates are legitimate."
"Whatever you think of Trump coverage, refusing to cover him at all means ignoring a major GOP storyline. Disagree," wrote Snapchat news head Peter Hamby.
Perhaps the most asute take, however, comes from Mother Jones reporter Max J. Rosenthal: "You all realize this HuffPost/Trump announcement is just a wildly successful PR/traffic stunt in itself, right?"