Obama Goes to Prison, Gunman Kills in Chattanooga, Greece Offered Emergency Aid: P.M. Links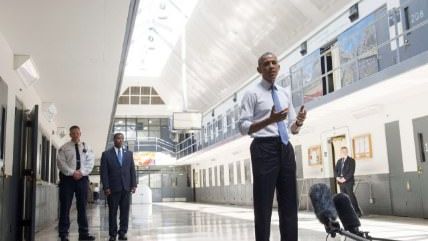 Getty

A gunman has killed four people in Chattanooga, Tennessee, at a Naval reserve center and a military recruiting office. The gunman has also been killed. Some sources are identifying the shooter as Muhammad Youssef Abdulzeez.

President Barack Obama became a first sitting president to visit a federal prison today to talk about criminal justice reform and to encourage us to maybe not incarcerate so many people for so long.
The Texas Court of Criminal Appeals has halted the planned execution of Clifton Lamar Williams to handle questions about testimony at his trial for killing a 93-year-old woman during a home robbery a decade ago.
Greece is now being offered the possibility of some emergency financial aid now that its leaders have relented and voted for belt-tightening measures.
Dylann Roof's trial for killing nine people at a black church in Charleston, South Carolina, has been scheduled for a year from now. A gag order prohibiting the police from releasing 911 calls and images from the crime scene to the press has been extended for at least another week.
The Federal Aviation Administration is probing reports of lasers being shined into the cockpits of at least 11 commercial planes flying over New Jersey Wednesday night.
Newly published at Reason.com:
Denis Leary Has Aging Rockers in His Sights in New FX Comedy. New series premieres tonight. Review by Glenn Garvin
Video: Gary Johnson on Trump, the Presidential Election, and Life as a Pot Company CEO. Johnson says he wants nothing to do with the GOP. By Nick Gillespie & Meredith Bragg
Follow us on Facebook and Twitter, and don't forget to sign up for Reason's daily updates for more content.