Reason Weekly Contest: Bernie Sanders Needs a Slogan
Last week's winners revealed.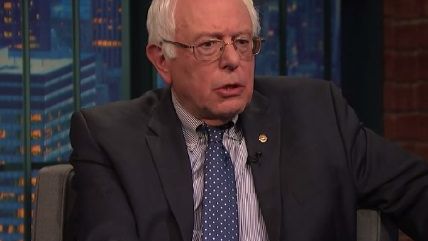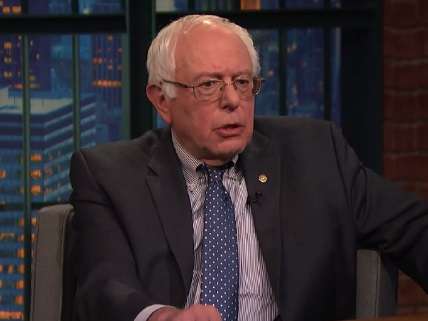 Welcome back to the Reason Weekly Contest! This week's question is:
Thanks for the Trump slogans, but he seems to have imploded. So now, please come up with a catchy slogan for his nemesis: Bernie Sanders.
How to enter: Submissions should be e-mailed to contest@reason.com. Please include your name, city, and state. This week, kindly type "BERNIE" in the subject line. Entries are due by 11 p.m. Eastern Time, Monday, July 13. Winners will appear Friday, July 17, right here at Reason.com.
In the case of identical or similar entries, the first one received gets credit. First prize is a one-year digital subscription to Reason Magazine, plus bragging rights. While we appreciate kibbitzing in the comments below, you must email your answer to enter the contest. Feel free to enter more than once, and good luck!
And now for the results of last week's: We asked you to come up with a new tourism tag line for Greece.
THE WINNER: Check us out on gofundme.com! — Paul Kellmurray, Nolanville, TX
SECOND PLACE: Where other people's money goes on vacation. — Felix
THIRD PLACE: Acropolis Now — Steve Foster, Lower Merion, PA
HONORABLE MENTIONS:
The Olympic-sized f**k-up! — Shane Skekel, Slidell, LA
Europe's Achilles' Heel. — Rufus J. Firefly, Montreal, Quebec
It's all capitalism's fault. — Jay Cornell
Greece, come swim in our sea of red ink! — Charles Carsten, Riverside
Give me a lever long enough and a fulcrum on which to place it, and I shall bankrupt the Eurozone. — Josh Wieder, West Palm Beach, FL
Going Out of Business Sale. — Christopher P. Brown, Idlewylde, MD
After 2000 years, we still can't figure out Democracy! — Susan Montgomery, Philadelphia, PA
Greece: You can see Albania from here! — Dave in Surpise, AZ
Visit The Origin of Civilization. Now Happy to Accept Bitcoin. — Ross Levatter, Phoenix, AZ
Zimbabwe on the Med! — Dances-with-Woodchippers, Portland, OR
Home of ancient ruins, such as the economy. — Joseph Gahan.
Come for the unemployment, stay for the bankruptcy. — T. Axel Jones, Stroudsburg, PA
Come to Greece… Please? — Ed Lehane, Cincinnati, OH
Brother, Can You Spare A Euro? — Frank Good, Kansas City, MO
Discover the spirit of Greece: find someone else to pay for it. — Douglas Smith, Juneau, Alaska
Visit Greece. Bring money. — Jim Noble, Boulder Creek CA
Europe's Drachma Queen — Coby Wholeben, St Augustine, FL
Greece—EU'll Never Want to Leave — Dennis Nowicki, Rowland Heights, CA
Greece. At least we aren't Somalia. — Rob Collister
Experience your own Greek Tragedy. — Raymond Chuu, Concord, CA