EACH Woman Act Would Allow Federal Medicaid Plans to Cover Abortion
New bill would kill the Hyde Amendment and also stop states from banning private insurance coverage of abortion.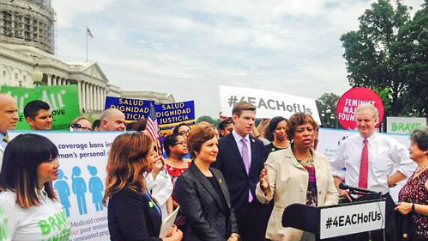 (National Latina Institute for Reproductive Health/Twitter)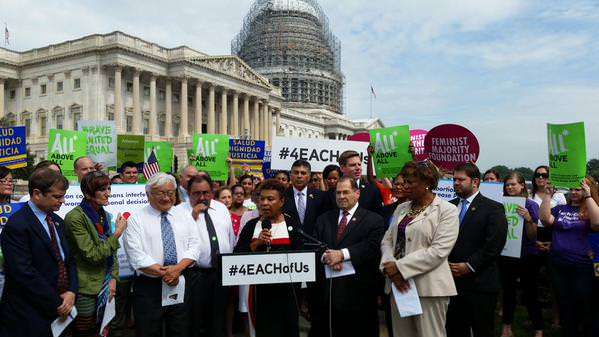 A group of female Democrats in Congress has introduced a bill that would kill the Hyde Amendment, a policy that has for nearly 40 years prohibited federal Medicaid coverage of abortion except in cases of rape, incest, or risk to the mother's life. The language advocates are using to talk about the bill, called the EACH Woman Act, is rather obnoxious—"No woman should ever be denied critical reproductive health services, including safe and legal abortion, simply because her health insurance refuses to cover her care," said Center for Reproductive Rights CEO Nancy Northrup in a statement. But putting an end to a policy that's based on religion, not health care needs and/or cost-effectiveness, is a good idea nonetheless.
Of course, Medicaid funding for abortions seems to provoke knee-jerk objections outside religious conservative circles, too. Fiscal conservatives prone to bristling over the low-income insurance program in general seem especially incensed by the idea of "taxpayer-funded abortions." But anyone who's actually more concerned with cost efficiency than punishing people for their choices should see that covering an abortion—which can be as little as $300-$500 in the first trimester, or up to $1,500-$2,000 in the second—is a heck of a lot cheaper than covering pregnancy and labor costs.
"Childbirth in the United States is uniquely expensive, and maternity and newborn care constitute the single biggest category of hospital payouts for most commercial insurers and state Medicaid programs," according to The New York Times. And this excludes the potential cost of Medicaid coverage and other aid to the child as it grows up. Even if you don't endorse Medicaid ideologically, it currently exists, and so shouldn't it exist with optimal cost-efficiency and efficacy?
Obviously some women on Medicaid—in which 1 in 6 women of reproductive age are enrolled—will find the money to obtain an abortion regardless of whether insurance pitches in. But getting the money together takes time, and time is of the essence when it comes to pregnancy. According to the Guttmacher Institute, women on Medicaid are more likely to have abortions later in pregnancy, when the fetus is further developed and the procedure is more expensive, more risky, and more likely to require travel.
The EACH Woman Act, introduced by Representatives Barbara Lee (D-Calif.), Jan Schakowsky (D-Ill.) and Diana DeGette (D-Colo.), would benefit women on Medicaid as well as federal employees and others. It has two main components:
1) Restoring abortion coverage to health insurance programs managed by the federal government, including Medicaid, Medicare, the Federal Employees Health Benefits Program, Indian Health Services, and the federal health care program for military families

2) Prohibiting federal, state, and local government policies that ban private health insurance companies from offering abortion coverage
Though the full bill text isn't available yet—and I wouldn't put it past Congressional Dems to try such shenanigans—nothing indicates that it will attempt to require private insurance companies to cover abortion.