Joe Biden Probably Announcing Presidential Run Later This Month
Could the Democratic race get any less libertarian?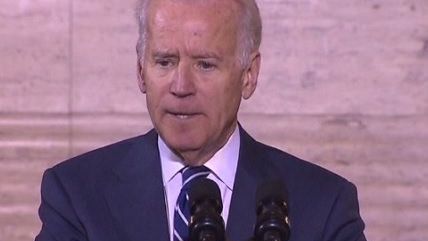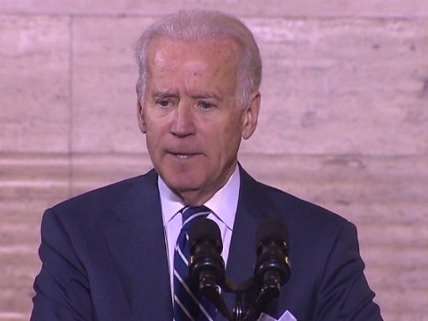 Did Bernie Sanders' "surge" help bring about a Joe Biden moment in the race for the Democratic nomination? There have been a number of articles in the last week about the "Biden Moment" and why the vice president should jump into the race. Last month, a Bloomberg poll found Sanders within 7 points of Hillary Clinton, as close to a non-incumbent presumptive nominee as we've seen since the last time she ran. That poll included Biden among the options. Without Biden, Sanders polls far behind Clinton. It's still far better than Martin O'Malley and Jim Webb, who are both announced candidates polling low single digits, but it's not a sign of a competitive race. Sanders still polls behind Biden, who hasn't announced whether or not he's running.
An Obama fundraiser interested in raising money for a Joe Biden run says Biden's team is indicating he's more likely to run than not. The Washington Times reports:
"They have given increasingly strong signals that Biden is going to throw his hat in the ring," said New York businessman Jon Cooper, a top bundler for President Obama's 2012 campaign who has been testing the waters with fellow bundlers for a Biden run.

"I'm as confident as I can be that he will be entering the race," he said.
A Draft Biden campaign emerged in March, focusing on Iowa, where the first contest of 2016 is held.
The Pittsburgh Post-Gazette's David Shribman points out how a Biden run could improve Hillary Clinton's prospects, writing that Biden "is five years older than she, thus removing the age issue. And he is still a member of the administration, thus removing the notion that Clinton is the candidate of a third Obama term."
Whether or not Biden runs, it's going to be difficult to distinguish the policy positions of the candidates for the Democratic nomination. Clinton's started to distance herself from some positions of the Obama Administration—most notably the trans-Pacific trade deal, but neither she nor Biden are really going to be able to distance themselves from the defining aspects of the Obama Administration, domestically or in foreign policy. They'll have to defend Obamacare—or call for even more government involvement in healthcare, as Sanders has done—and sell the Obama foreign policy of intervention as non-intervention. In this, most of the Republicans are eager to help. Portraying Obama's foreign policy forays, largely continuations of the Bush era school of thought, as something different than what the interventionist Republicans propose, helps both sides turn small differences in foreign policy into the actual debate. In that way it also helps keep actual ideas about non-intervention and managed disengagement out of the conversation.
The Democratic race, so far, has been a contest of adopting the most populist economic rhetoric, of sounding like Bernie Sanders without wearing the socialism on their sleeves. And while foreign policy has so far been misrepresented or ignored, civil liberties issues like the war on drugs and police abuse haven't been taken up substantively either. Could Joe Biden help there too? In the more than forty years he's spent in Washington, Biden has been awful on drugs and policing, pushing for more stringent enforcement of the war on drugs and flooding communities with police.
If he picks up momentum, maybe these issues can take a more appropriately central stage in the Democratic race. That doesn't mean, of course, it's any less likely for Hillary Clinton to win. She didn't support gay marriage until three months ago but has co-opted the issue since then, erasing her long history of outright opposition to gay marriage. Whether or not Biden runs, and irrespective of how full-throttled his support of the Democrats' long war on drugs will be, there's no reason to think Democratic voters won't ignore the policies of the past, and present, for partisan rhetoric about the future.