Hinduism's Growing Chasm With Liberal Values
One can't predict how a religion will behave by simply consulting its core texts.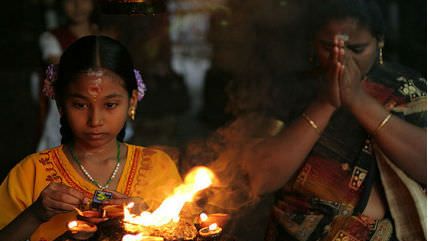 If there were ever a religion readymade for liberal democracy—and its commitment to religious freedom—Hinduism would be it. Unlike Christianity (and other monotheistic faiths), Hinduism has no one true doctrine handed down by the one true God to be spread and enforced through the one true Church. It's a loose, amorphous, and ecumenical faith that accepts that all religions are valid and it doesn't matter which one you follow, as long as you are going to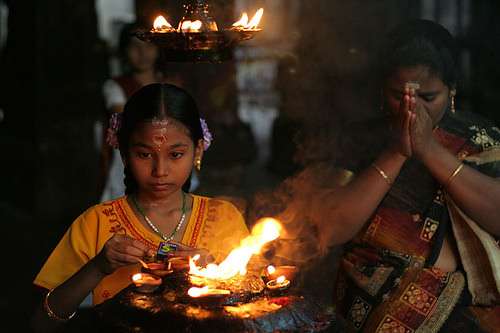 the same place. Hence, it made sense when Hindu-dominated India, after gaining independence from the British in 1947, enshrined secularism and religious pluralism in its constitution ­—rather than going through a three-century-long process from the Reformation through the Enlightenment that the West did to pry open space for religious tolerance in Christianity.
However, India's commitment to religious freedom and toleration has been under serious challenge for a couple of decades with the rise of Hindutva or Hindu nationalism. This ideology, that boasts Prime Minister Narendra Modi among its adherents, has always resented the special space that India's constitution extends its minority religions—like letting Muslims use sharia in their civil matters. But now it has started openly attacking even their right to exist in India because, it maintains, India belongs only to those that can claim it as their fatherland and holy land—a rather hypocritical requirement given that the rapidly spreading Hindu diaspora enjoys strong religious protections in countries such as America and England that aren't its "holy land and fatherland."
That a historically tolerant faith could take such an intolerant turn suggests that a religion's relationship to liberal values might have less to do with its own inner character and more to do with the existential insecurities of its adherents in a given time.
Tensions between India's Hindus and Muslims have existed on and off for centuries, but they reached a fevered pitch in the aftermath of independence when both sides engaged in mass slaughter during the population transfer between India and the newly carved out nation of Pakistan. Since then, Hindu militants have used every Muslim provocation—big or small, real or imaginary—to unleash unspeakable violence against Muslims, killing thousands as recently as 2002 in the state of Gujarat when Modi was chief minister. But in recent years their ire has expanded, disturbingly, to include Christians as well, despite a long history of relatively harmonious relations between the two communities. For example: the archbishop of New Delhi inaugurates the annual Christmas celebrations with a ceremony at the Ramakrishna Mission, one of India's oldest and respected Hindu orders. Yet now Hindu extremists have dubbed Christianity, along with Islam, as an "invader religion," and escalated their violence. There were 53 attacks against Christians from 1964 to 1997. In 2004, there were 4,000, according to a Christian Forums report
Hindu militants accuse Christian missionaries of using bribery and fraud to convert illiterate Hindus to Christianity. One story that Hindutva has popularized involves missionaries submerging a light replica of Jesus Christ and a weighted one of a Hindu deity in water. And when Christ floats and the Hindu God drowns, they tell impressionable Hindus that Christ is more powerful than their Hindu God and if they want to get rich or get well, they ought to convert.
Corrupt preachers exist everywhere in every religion but Hindu nationalists are using the actions of a few to sully even widely revered figures such as Mother Teresa, whose charitable order they now accuse of being a front for conversion activity. They are pushing for a ban on "forcible" conversions even as they themselves engage in mass "reconversions" to bring "illicitly" converted Muslims and Christians back into the Hindu fold. And in a bid to force Muslims and Christians to hew to the majority Hindu sentiments about the sacredness of cows, they have forced many states to implement beef bans in recent months. Indeed, the Hindu chief minister of one state just this week eliminated eggs from the mid-day meals of poor school children to indulge the vegetarian dogma of some Hindus.
What's fuelling the popularity of the Hindutva cause—beyond simply the settling of ancient scores—is fear, specifically the fear that, as a non-proselytizing religion, Hinduism will get swallowed by those religions that are, unless it does something. This is a completely groundless worry given that Hindus constitute over 80 percent of India's billion-strong population and the rest combined a mere 20 percent.
Nor is this balance going to shift anytime soon. Muslims grew a modest 0.8 percent over the last decade, whereas Christianity's share actually declined. Especially when it comes to Christianity, notes Tony Joseph, a "lapsed" Christian and the former editor of BusinessWorld, Hinduism's openness has made it uniquely impervious. "Christianity, probably for the first time, came up against a philosophy and culture that did not feel the need to persecute other faiths, did not find the Christian messiah and his teachings either objectionable or exceptional, and therefore, didn't see why anyone should convert either," he writes.
After 2,000 years of unfettered missionary effort, Christians are only 2.3 percent of India's population—compared to 9.8 percent in Indonesia, 29.3 percent in South Korea, and 85.5 percent in Philippines. Even in China, whose Communist dictatorship severely restricted missionary activity, about 5 percent of the population is Christian. Indeed, the Christian population in India is falling even as the Hindu population in England and elsewhere is growing.
Why has Hinduism's long-standing tolerance and openness failed to temper the growing allure of its extremists?
For starters, the University of Chicago's Wendy Doniger, whose book on Hinduism so angered Hindu nationalists that they forced Penguin to withdraw it, points out that Hinduism might not be "orthodox," but it is certainly "orthoprax." Although it doesn't demand a strict adherence to any intellectual dogma, it does prescribe a rigid code of practice (praxis) in the name of bodily and spiritual purity. Non-Hindus are free to follow their own ways and rituals without judgment or interference only so long as they don't clash with Hindu taboos.
That's why when the Hindutva brigade pushes for a beef ban or egg restrictions, for example, Hindu gurus don't tell them to knock it off and remind them that fidelity to Hinduism (much less individual rights and the constitution) requires tolerance for others' ways and habits. Instead, in keeping with Hinduism's veneration of vegetarianism and cows, they aid such efforts by digging up pseudo-scientific justifications for why these bans are in the interest of beef consumers themselves.
What's more, all religions are complicated systems with a mix of contradictory beliefs and values. No religion is simply open or closed, peaceful or warlike, tolerant or intolerant. They all have all the elements —only the emphasis varies. Hence, it is possible to enlist a religion for diametrically opposed ends. Indeed, Mahatma Gandhi turned the extreme respect for life—human and animal—in the Bhagvad Geeta, the Hindu holy text, into a gospel of pacifism to mobilize Hindus for his non-violent struggle to oust the British. However, the core of the Geeta is an exposition of the just war theory in which Lord Krishna convinces Arjuna to engage in bloody battle to defeat his corrupt and evil cousins. It doesn't take a huge imagination to coax out a justification for Hindutva's allegedly defensive crusade against "invader religions" from this holy text.
Finally, Hinduism's very openness, paradoxically, can act against its liberalism, becoming a conduit for not just good ideas but also intolerant ones. Hindutva regards the absence of injunctions against apostasy and blasphemy—and the lack of a homogeneous dogma or the provision for conversion—as a very great weakness of Hinduism that needs correcting. The West had to beat back these elements in Christianity to make room for liberal democracy. But Hindutva, tragically, is trying to import them—even as it gnashes against "corrupt Western influence." Its move to ban conversions is simply a secular version of an anti-apostasy law and the "reconversion" movement a backdoor effort at proselytization. Moreover, Hindutva makes no secret of its desire to homogenize and systematize the vast diversity of Hindu practice just like monotheistic faiths to make it easier to organize and rally the faithful.
Should it succeed, it will destroy much of what's exceptional and unique about Hinduism. But it'll also make it difficult for liberal democracy to flourish in India. Progressives can't simply wait for Hinduism's natural instincts to spring forth and defeat this anachronistic ideology. The failure of moderate Muslims to mount a forceful Islam-based case for freedom and democracy left the field wide open for extremists to hijack their religion for anti-liberal ends. If Hindu progressives want to prevent that from happening to Hinduism, like Arjuna, they need to engage in a full-blown theological war with Hindutva—and expose how its goals are an affront to the true spirit of Hinduism.
A version of this column originally appeared in The Times of London.