School Won't Let 4.3 GPA Student Give Valedictorian Speech, Made Him Take Psych Eval Instead
He tried to talk to his counselor but was accused of making a threat.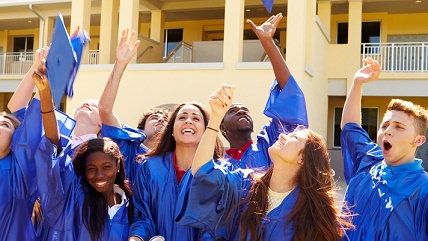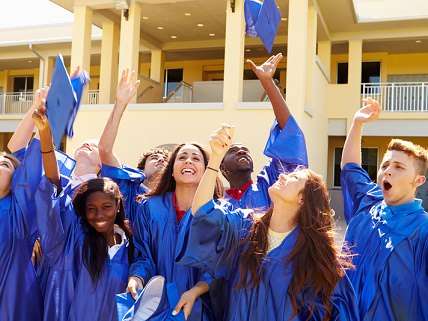 Lodi High School Senior Devan Solanki is headed to Harvard University next fall. He has a 4.3 GPA. He is the class valedictorian. But administrators at his Bergen County, New Jersey, school won't let him give the commencement speech at his June 23 graduation—allegedly because he has a history of disciplinary issues. Those issues don't seem very serious, however, and certainly don't justify the psychiatric evaluation he was forced to take after tersely asking a counselor for help resolving the dispute over his speech.
Solanki was recently informed that the task of giving the commencement address would no longer default to the class valedictorian. Instead, administrators would choose the speaker. Solanki wasn't in the running, according to Principal Frank D'Amico, because of past disciplinary issues. They don't seem like the kinds of issues that should disqualify him from speaking, however, according to nj.com:
Solanki admits to having disciplinary infractions but insists they're minor – using a cell phone on one occasion, and on two separate occasions, talking back to teachers. He thinks it's his reputation for occasionally being sharp-tongued with Lodi High School staff that's led to the end-of-year graduation woes.
On Monday, Solanki went to speak with a guidance counselor about the situation. He told her, "I'd like to handle this peacefully today." The counselor took his remark as a threat, and Solanki was suspended. He is not allowed to return to school until he undergoes a psychiatric evaluation. He wrote the following the letter to friends and teachers:
I'm writing to you to explain how my valedictorian speech was taken from me.

This past Thursday, June 4th, [Teacher] called me into [Principal's] office where I was told that I would not be permitted to give the commencement speech at my own graduation. They told me that they have been trying to implement a new policy where National Honors Society members apply for the chance to give the speech and now was as good of a time as ever. They said that due to my disciplinary history I would not even be considered in the running. I was told that I had two choices. I could either tell everyone that I decided not to apply altogether or send in an application knowing that my speech had no chance of winning, regardless of its merit.

The thing that hurt the most was the timing of it. They decided to tell me June 4th. Not only was it the day of prom but it was two days after the Valedictorian Breakfast. [Teachers' names removed for confidentiality] had just spent an entire morning telling me just how proud they were of me and of my accomplishments. I don't understand how they could sit by and applaud while I get my certificate knowing that they would soon take it all away from me. After they told me that giving a speech just wouldn't be in my future, they offered to retain the ceremony honoring the valedictorian. What I don't understand is why they thought that the title valedictorian was synonymous with being number one in the class. No it's not. In fact a valedictorian is someone who gives a valedictory, or in layman's terms, a closing speech.

Their reasoning is that since I've faced disciplinary action in the past, I'm no longer fit to hold such an honor. In all honesty, regardless of the credence of the actions that landed me in the vice principal's office, I think "getting in trouble" makes me all the more representative of my class, not less. I am human after all.

I've been lectured time and time again about picking my battled very carefully. To be frank, I can't think of anything else that I'd rather make a stand against. If I've learned anything during my four years at Lodi High School, it's that when you feel you need help, there are people all around you that you can turn to. Whether or not you've had me in class or merely heard about me, I think you should be able to decide for yourself whether or not this is a fair thing to do to a student. I'm not asking you to act, but merely acknowledge and share with me in my plight.
Administrators declined to answer reporters' questions about the case; privacy laws generally prevent them from giving details about students' disciplinary histories. (I reached out to Solanki for comment but did not immediately hear back.) It's possible, I suppose, that there is something truly nefarious in the teen's past that would justify stripping him of the right to give the speech—but students whose behavior is that problematic don't tend to have 4.3 GPAs or gain admittance to Harvard, so I doubt it.
Instead, this looks like a case where a student with a very mildly rebellious spirit provoked unmerited concerns among nervous administrators who changed the rules of the game to prevent Solanki from winning it. And then they treated a perfectly reasonable request as a safety hazard.
Students who express perfectly legitimate concerns to school staff members should not be barred from privileges they have earned, and they certainly shouldn't be considered insane or dangerous. Only in a world where "zero tolerance" school safety paranoia has eroded all distinctions between slight behavioral issues and criminal conduct could Solanki be considered a dangerous person.