California Roads Council Puts Up 'Don't Be Roadkill' Sign About Pedestrian Safety Near Where Sheriff's Deputy Ran Over and Killed Two People
Kern County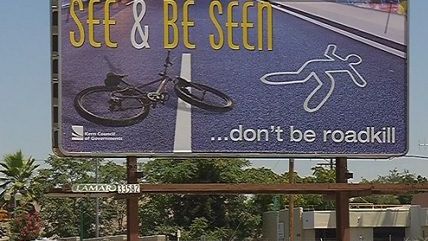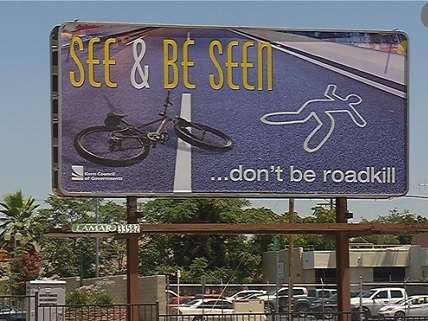 This month the Kern Council of Governments (KernCOG, an "association of city and county governments" that is a "state-designated Regional Transportation Planning Agency") launched an advertising campaign to promote road safety. Among the advertisements is the billboard to the right, warning bicyclists not to be roadkill, located a few blocks from where in 2011, John Swearingen, a deputy sheriff for Kern County, ran over and killed two people pushing a motorcycle down the road. He was going 80 miles an hour without his lights or sirens on when he hit Daniel Hiler and Chrystal Jolley, who police found not at fault. He pleaded no contest to misdemeanor vehicular manslaughter and was sentenced to community service and probation. The county paid out $8.8 million to settle the case and Swearingen remained on the force.
KBAK Eyewitness News in Bakersfield talked to Daniel Hiller's mother:
"I'd ask them to put something more decent up and not be calling people road kill," the mother said. "To be called road kill is really disturbing."

"That is not meant to be, by any means," Kern Council of Governments Rideshare coordinator Susanne Campbell responded. 

But, she said the group wants to send out a safety message that will have an impact.

"We have a lot of collisions every year," she said.

Campbell said Bakersfield police reported nine fatal accidents involving pedestrians and one with a bike rider in 2013. The next year, the city saw 10 pedestrians killed and three bike riders. And so far this year, seven pedestrians and one bike rider have died in crashes.
Campbell told Eyewitness News the county solicited feedback from residents, asking them "Tell us what you think? Will it be accepted? We don't want to offend." Nevertheless the spokesperson said the government wanted an ad campaign with an "impact" that would be "memorable." The billboard will be up for at least a month.
Last year, the Kern County Sheriff's Office launched a road safety campaign of its own, auditing how fast its deputies were driving and monitoring seatbelt and cellphone use. At the time the sheriff told KBAK in the previous ten years at least four deputies were killed in traffic, mostly not wearing seatbelts and where speed was a factor.