No Virtual Reality Porn for Oculus Rift
This week in weirdly futuristic sex: virtual reality porn out, sex robots in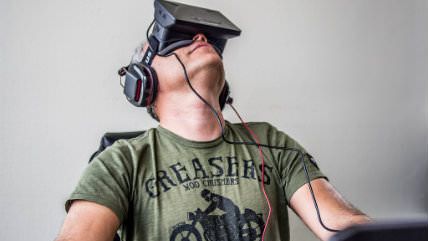 (Sergey Galyonkin/Flickr)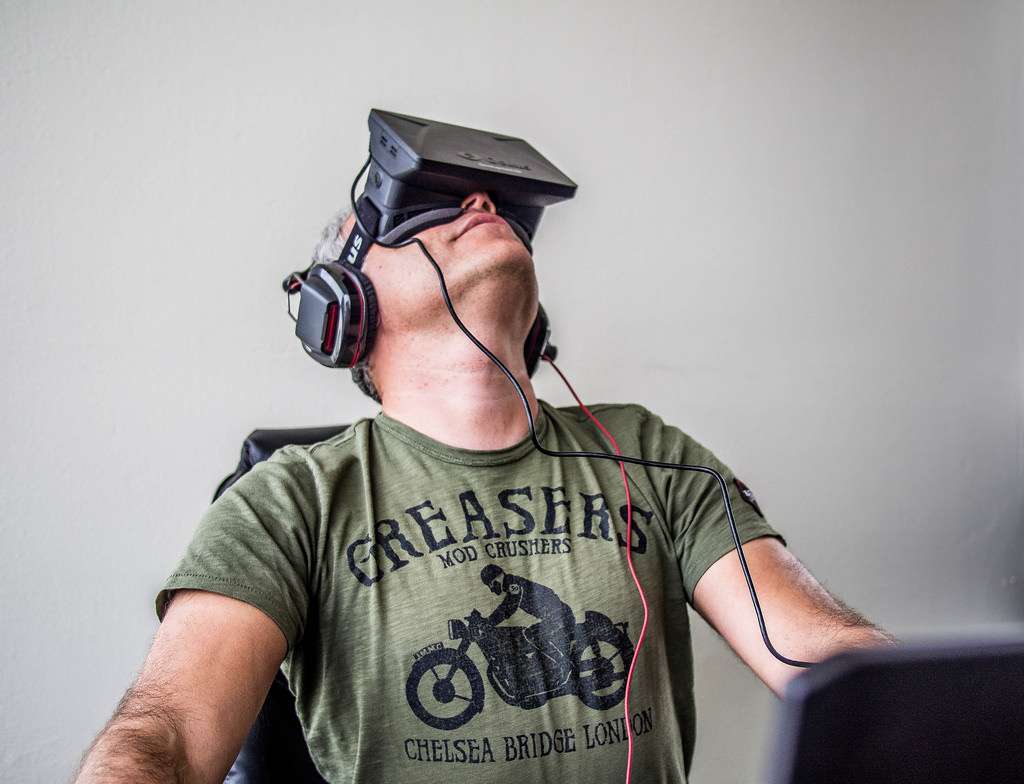 In May, Palmer Luckey, creator of the much-hyped virtual-reality headset Oculus Rift, crowed that his company wouldn't bar adult entrepreneurs from using the headset as a platform for virtual pornography and erotica. Oculus Rift is "an open platform," Luckey told an audience at the Silicon Valley Virtual Reality conference. "We don't control what software can run on it. And that's a big deal." But now an Oculus VR representative has said that it will officially prohibit such sexually-oriented content.
What changed? No one's sure. But Oculus VR is owned by Facebook, and Facebook is notoriously hostile to anything resembling sexual content. (Just today, my account was temporarily suspended because a page that I am one of several admins of posted a link to an article featuring women protesting topless.) A Facebook spokesperson told Fast Company that the company will run an app store offering games and other Oculus Rift programs, but the terms of service will "forbid pornographic content from being a part of the Oculus Store."
That doesn't mean porn won't be available for the headset, however, just that it won't be sanctioned. "VR porn—both for the still-in-development Oculus Rift and Samsung's Gear VR platform—is already for sale on dozens of websites," notes Fast Company.
As the moment of virtual reality's mainstreaming begins, entrepreneurs and industry veterans are experimenting with new ways of producing porn—with 180- or 360-degree views, lifelike 3-D models, and interactive sex toys. The form and the technology is still nascent; the content can be transporting, uncanny, or creepy.
When I was writing about sex robots for Reason's March issue, a lot of people tried to tell me that virtual reality porn via Oculus Rift and its ilk were far more likely future sex toys than anatomically correct sexbots. While I'm pro- letting sexbots be, I'm pretty agnostic about whether their future prospects more closely resemble personal computers or personal jetpacks. I'm actually more skeptical of the idea that virtual reality porn will ever really takeoff; as a child of the 90s—era of shopping mall virtual-reality arcades and Alicia Silverstone as sexy Aerosmith-video VR nymph—and grad student during the meteoric rise and fall of Second Life, I feel like we've been through this particular rodeo before, and people actually aren't that into it. (Teledildonics, on the other hand, feels like a much more natural extension/merger of the popularity of conventional sex toys and video calling services like Skype.)
Which brings us to: Real Doll's recent announcement. Arguably the most popular purveyor of sex dolls, the company said last week that it was beginning development of a sex robot (an object still more fantasy than reality in 2015). Real Doll creator Matt McMullen told The New York Times his "Realbotix" project will, with the help of the humanoid robot makers at Hanson Robotics, take several forms. From the Times:
Mr. McMullen is first focusing on developing convincing artificial intelligence, and a robotic head that can blink and open and close its mouth. He's also working to integrate other emerging technologies, like a mobile app that acts like a virtual assistant and companion, and virtual reality headsets that can be used separately or in tandem with the physical doll.

[…] Mr. McMullen says the Realbotix head, which can be attached to the existing RealDoll body, will cost around $10,000, and be commercially available in two years. The full body, which he will begin developing next, will most likely range from $30,000 to $60,000. —
To avoid the "uncanny valley" effect that can plague humanoid robots, McMullen said he is trying to create products that still resemble dolls more than people.