Launching Campaign for President, Jeb Bush Tries to Thread the Needle of His Family History
The GOP hopeful wants you to look past his last name.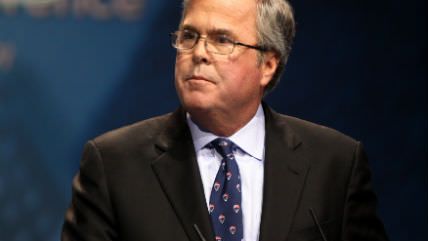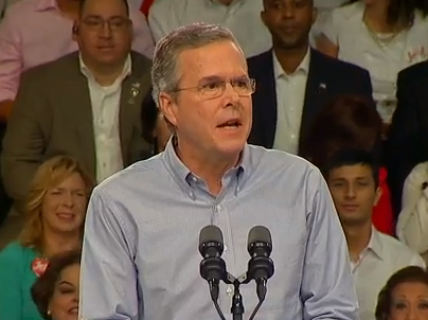 When Jeb Bush announced he's running for president, his kids, grandkids, mom, and wife were there to show their support. Conspicuously absent: his father and brother, who both once held the office the former Florida governor is now seeking.
Bush knows he has a needle to thread when it comes to his family history: He needs to show voters he's "his own man" without trying too hard to put distance between himself and the two President Bushes who came before. He doesn't want to appear disloyal, but he also faces the tall task of overcoming the charge that a vote for Jeb is a vote to keep a political dynasty in power.
The official start of his campaign provides some insight into how he plans to approach this dilemma—and so far he's tackling the problem head-on. His just-launched website, jeb2016.com, features a long narrative biography that includes this section—emphasis original:
I know I'm unique in that I have a brother and a father who have both served this nation as president.

Now, before I tell you the story, let me say: my dad is the greatest man I've ever known. And if you don't think so, well, we're going to have words. So my perspective here might be a little colored!

But as I prepare for this job audition, I have thought about their successes and their failures—and learned from them. One of my strongest takeaways was how they were willing to stand up for what they thought was right, in the face of enormous challenges. I saw it firsthand when my dad faced the difficult task of bringing a peaceful end to the Cold War.

Dad managed to maintain trust with his Russian counterparts even as he championed the cause of nations long under Soviet domination….As a result, today, a nation divided by war for decades is whole again, and it is a critical ally of the United States. I don't think that was an accident or inevitable. It happened because my dad understood America's role, and he led. We need that kind of leadership today.
In his prepared remarks, delivered today at Miami Dade College in Florida, Bush spent time actively working to take the legs out from under the idea that he feels entitled to the presidency because of his last name:
Campaigns aren't easy, and they're not supposed to be. And I know that there are good people running for president. Quite a few, in fact.

And not a one of us deserves the job by right of resume, party, seniority, family, or family narrative. It's nobody's turn. It's everybody's test, and it's wide open—exactly as a contest for president should be.

The outcome is entirely up to you—the voters. It is entirely up to me to earn the nomination of my party and then to take our case all across this great and diverse nation.
His strategy, then, seems to be thus: acknowledge his unusual background and the reality that some people will be turned off by it; express gratitude for the lessons his father's and brother's terms in office taught him; and, most important, make it absolutely clear that he intends to win the election on his own merits and the strength of his accomplishments as governor of Florida.
That's about the best answer to the challenge before him he could have given. And while it's far too early to say for sure if it'll work, from where I sit, Bush looks like the man to beat.