5 Things to Know About Jeb Bush's Campaign for President
Get up to speed while you wait for his official announcement to begin.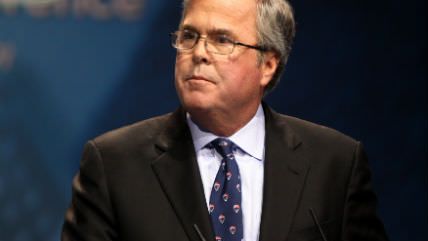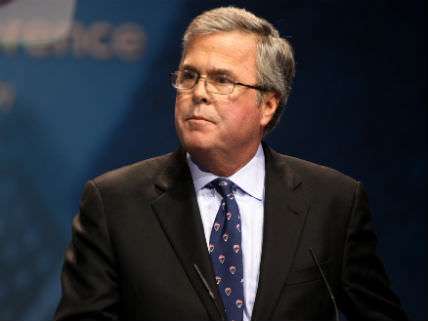 This afternoon in Miami, former Florida Gov. Jeb Bush will surprise no one by officially announcing he's running for president. Yesterday he released this video as a preview of what's to come.
Here are five things to know about the Republican's impending campaign:
1. His goal is to convince voters he's more ready to lead—and get things done—than any of his competitors. In a field that includes a number of young candidates, Bush is hoping his experience will set him apart. Kentucky Sen. Rand Paul and Florida Sen. Marco Rubio were both elected in 2010, meaning that on the day the next president is sworn in, they'll have been in the Senate for just six years each. Texas Sen. Ted Cruz joined that body two years later. Wisconsin's Scott Walker and Ohio's John Kasich are just beginning their second terms as governor (though Kasich had a long career in the U.S. House of Representatives before that). Carly Fiorina and Ben Carson have never held elected office.
There are a couple of GOP hopefuls who have more executive experience than Jeb: Rick Perry held the top spot in Texas for a little over 14 years and is the longest-serving governor of the Lone Star State, while Mike Huckabee was governor of Arkansas for more than a decade. But both men have sought the Republican nomination and failed to secure it before. Bush—the brother and son of two former presidents—will spend the next year trying to convince voters that he's singularly prepared to govern from the Oval Office.
2. He'll have to turn his positions on education and immigration into assets instead of liabilities. Bush has a twofold albatross around his neck: his outspoken support for comprehensive immigration reform that would allow most people who are here illegally to stay, and his outspoken support for the Common Core education standards that have become a punching bag for many on the right. But on the latter point, Bush is also a vocal proponent of school choice—extremely popular among Republicans—who implemented one of the first voucher programs in the country while he was governor of Florida. And he made it clear in his January speech at the Conservative Political Action Conference that he doesn't plan on running from his support for higher education standards that ensure kids in different parts of the country are learning the same general things.
Bush famously called illegal immigration an "act of love" and supports a path to legal status, both of which have earned him ire among conservatives. But Bush, who is himself married to a Mexican immigrant, is not backing off that position. Some think this will severely hurt his chances of winning the GOP nomination, but others have noted that Republicans need to find a way to do better among Hispanic voters if they are to have any chance of taking back the White House. Bush, who has said he would be willing to "lose the primary to win the general," seems to be playing the long game on this issue—and hoping he can persuade the GOP base to play it with him.
3. He already had a campaign shake-up this year, though he doesn't want you to view it that way. Last week, Bush tapped Danny Diaz of FP1 Strategies to head up his campaign. This surprised a lot of observers, as a different strategist, David Kochel, "was believed to have been penciled in for the role when he was hired this year," according to Reuters.
Bush has downplayed the change, saying that a national race is "a pretty overwhelming challenge and so I decided to kind of split up the duties." Kochel will remain involved as chief strategist for the campaign. Still, the change has made some Bush supporters nervous.
4. The exploratory phase of his campaign has included a few stumbles. Bush was expected by many to scare the competition out of the race with staggering fund-raising numbers and an ability to parlay his family's connections into a sophisticated campaign machine. It hasn't quite worked out that way. The Washington Post reported last week that it now seems unlikely his PAC will meet its $100 million goal. What's more, Bush's shaky series of answers about whether he would have invaded Iraq in 2003, as George W. Bush did, raised eyebrows and led to whispering that he and those around him might not be ready for the spotlight after all.
Bush initially said that "I would have, and so would have Hillary Clinton, just to remind everybody, and so would almost everybody that was confronted with the intelligence they got." He later backtracked, saying he misunderstood that the question was asking whether, with the benefit of hindsight, he still thought it was the right decision. Although the firestorm has passed, it left some onlookers wondering why he wasn't ready for an obvious question about the most controversial decision of his brother's presidency.
5. His position in the polls right now tells us almost nothing. Bush shot to the front of most polling the moment he made it known he was thinking about running for president last year. Much of the pre-coverage of his campaign launch has mentioned that his position has since slipped—and that's true, but it tells us very little about how likely he is to capture the Republican nomination in the end. Primary surveys—especially this far out from the first contests—are reliably unreliable.
To understand what I mean, one need only look back four years. Four different candidates took turns beating the eventual nominee, Mitt Romney, in the polls in 2011. As I wrote in the July issue of Reason, anyone trying to judge the relative chances of the various candidates based on national primary polls conducted before voting began would have been hopelessly lost. The truth is that the landscape is far more likely to change dramatically between now and spring 2016 than it is to look then exactly like it does right now. Speeches will be made. Ads will be broadcast. Records will be dissected. Scandals will be unearthed. And the conventional wisdom will evolve accordingly. The fact that someone is (or isn't) getting the most hypothetical votes today means very little.
Consider yourself warned.