College Claims a Reference to a 129-Year-Old Riot Is a Threat
Academic contempt for free expression, chapter CCXXXV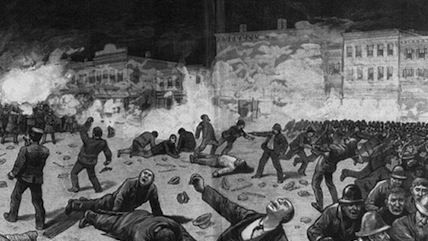 The Foundation for Individual Rights in Education reports:
Oakton Community College (OCC) is insisting that a one-sentence "May Day" email referencing the Haymarket Riot sent by a faculty member to several colleagues constituted a "true threat" to the college president….

"Merely noting to one's colleagues that May Day is a time when workers 'remember' the Haymarket Riot does not constitute a 'true threat,'" said Ari Cohn, a Senior Program Officer and lawyer with the Foundation for Individual Rights in Education (FIRE). "The United States Department of the Interior has designated the Haymarket Martyrs' Monument a National Historic Landmark. If remembering the Haymarket Riot is a 'true threat,' the monument itself would be illegal."

On May 1, Chester Kulis sent an email to OCC colleagues that read, "Have a happy MAY DAY when workers across the world celebrate their struggle for union rights and remember the Haymarket riot in Chicago." The email, titled "May Day—The Antidote to the Peg Lee Gala," was written in response to a reception hosted by OCC in celebration of the retirement of college president Margaret B. Lee….In response to Kulis's email, an attorney representing OCC wrote a cease-and-desist letter to Kulis on May 7, arguing that Kulis's reference to the Haymarket Riot was a threat of violence because the famous workers' rally in Chicago "resulted in 11 deaths and more than 70 people injured."
FIRE notes that Kulis has a history of highlighting "the perceived mistreatment of adjunct faculty members through his role with the Adjunct Faculty Association." Evidently, Oakton officials thought he was threatening to disrupt the reception with a riot—or found it convenient to pretend that they thought that.