Jerry Seinfeld: Comedians Say Don't Go Near Colleges, Political Correctness Hurts Comedy
'They don't even know what they're talking about.'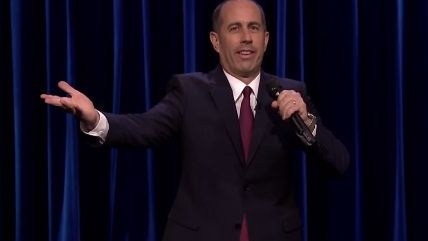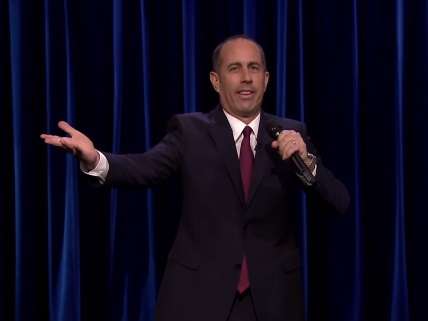 It sounds like Jerry Seinfeld agrees with Chris Rock that American college students have developed an allergy to good comedy. In an interview with ESPN Radio's Colin Cowherd, he had this to say:
"I don't play colleges but I hear a lot of people tell me, 'Don't go near colleges, they're so pc.' Hey, I'll give you an example. My daughter's 14. My wife says to her, 'Well, you know, in the next couple of years, I think maybe you're going to want to hang around the city more on the weekends so you can see boys.' You know, my daughter says, 'That's sexist.' They just want to use these words. 'That's racist. That's sexist. That's prejudice.' They don't even know what they're talking about."
When asked by Cowherd if knee-jerk offendedness hurts comedy, Seinfeld responded, "Yes, it does."
One of the supposed benefits of college is being able to connect with a lot of other smart people, and having the chance to interact with experts, artists, musicians, and policymakers who are invited to speak or participate in events on campus. As a student at the University of Michigan, for instance, I was able to meet several fascinating characters, including '60s radical Bill Ayers and lolcats founder Ben Huh. I also chatted with Pulitzer Prize-winning Washington Post columnist Eugene Robinson and listened to Rep. Ron Paul give an awesome campaign speech. I didn't like or agree with all of these people, but the experience was deeply enriching, and that's the entire point of college. That's what you're paying for.
How sad, then, that some students' hostility to new or troubling ideas has comedians (understandably) convinced that campuses aren't worth their time.
Hat tip: Breitbart News