Nevada Residents Get Tax Dollars Back to Pay for Schools of Their Choice
The high priests of the House of Fail do not approve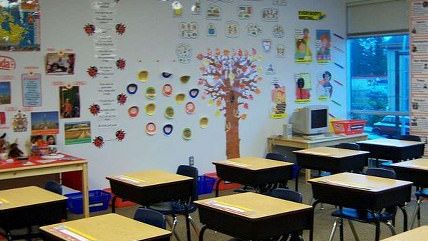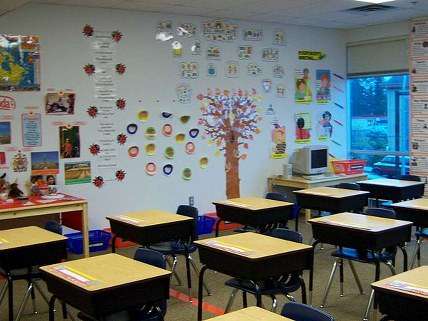 Nevada residents sick of paying taxes to have their kids taught that learning is all about rigid schedules, mindless discipline, and soul-crushing boredom suddenly have more alternatives than anybody else in the country. On Tuesday, Governor Brian Sandoval signed a bill allowing low-income families and the parents of children with disabilities to get back 100 percent of the statewide average basic expenditure per-pupil (around $5,700) to pay for education expenses. Other families get 90 percent of the basic per-pupil expenditure (around $5,100). The funds will be deposited in Education Savings Accounts (ESAs) to be used as needed for authorized purposes.
Assuming the law survives the inevitable legal challenge, many families will have an opportunity to pay for private schools, online classes, and homeschooling material instead of public institutions that don't suit them.
According to the Friedman Foundation for Educational Choice, which supports the program:
Funds in the ESA can cover:
Tuition and fees at an approved private school
Textbooks required for a student at an approved private school
Tutoring or other services provided by a tutor or tutoring facility that is a participating entity
Tuition and fees for a distance learning program
Fees for any national norm-referenced achievement examination, advanced placement or similar examination or standardized examination required for admission to college or university. 
Fees for any special instruction or special services if the child is a pupil with a disability
Fees and tuition for a college or university in Nevada if that student utilizes those expenses for dual credit
Textbooks for a college or university in Nevada, also if that student utilizes those expenses for dual credit
Transportation to school up to $750
Purchases of curriculum or any supplemental materials
Management fees
ESAs currently exist in other states, including my own Arizona (PDF), but are limited—often to special needs students and/or those in failing schools (explicitly failing schools that is, not just public schools ineffectively stumbling through the motions).
To be eligible for an ESA, a Nevada student must have attended a public school for at least 100 days immediately before applying to the program. So current private school students and homeschoolers would have to duck back into the system for a good chunk of a school year in order to qualify.
Confusingly, the law specifies that "A parent may not establish an education savings account for a child who will be homeschooled…" but this appears to be an attempt to address homeschoolers' concerns about the state muscling in. The Nevada Homeschool Network objected that:
the term 'homeschool' is legally defined in Nevada whereby parents take full responsibility for the education of the child…NHN is concerned that alternative education funding programs intending to benefit a student with a government controlled "choice in education" will jeopardize homeschool autonomy from government oversight…
So the law excludes "homeschooled" kids, but it establishes a separate category of "Opt-in" children who are "not enrolled full-time in a public or private school and who receives all or a portion of his or her instruction from a participating entity…" A "parent of a child" can be a "participating entity," and ESAs can be used to purchase curriculum. That means Nevada kids can be homeschooled with ESAs, they just can't be "homeschooled."
I'm happy to clear that up.
The law also states that "nothing…shall be deemed to limit the independence or autonomy of a participating entity," so its authors seem to be making a full-out effort to give families as many options as possible without turning the ESAs into bureaucratic entry points into those options.
The $5,700/$5,100 families receive per-year for their ESAs actually are not the full per-pupil amount Nevada spends on public school inmates. The Census Bureau puts the full annual per-pupil expenditure at $8,339 as of 2013. That means the public schools will hold on to a good chunk of the funds—cash from local and federal sources—for each student who withdraws.
My own experiance is that education can be easily accomplished for the amount of money in play, especially if parents have time and attention to devote to the issue. Just looking at brick-and-mortar private schools, Private School Review reports that "The average private school tuition in Las Vegas, NV is $8,393 for elementary schools and $8,644 for high schools." That's average cost, and I'm comfortable predicting that a state full of families with cash in hand is going to nudge the price point downward while creating a market for new players [Update: As commenter Warren points out, increased demand would usually be expected to at least initially drive prices up. But ESAs are essentially vouchers with a fixed value, and they have the potential to vastly expand the market for private schools that can provide services at specific price point].
I'm paying less than half of that Nevada tuition average for an online private elementary school, though it requires frequent participation on my part as an instructor for my nine-year-old. Friends of mine using the same school for their teenage daughter are able to give her free rein to do her work, and just check in every few days to make sure she's on-track.
Given the wide variety of philosophical approaches, curriculum providers, and free or low-cost sources of online information and instruction, homeschooling (and "homeschooling") can come in at almost any price point, though it does require a commitment by families. The wide-open nature of the Nevada law is likely to empower some very interesting experiments along the lines of constructing education options that suit specific kids.
I'm sure there will be some stumbling along the way, so look for the high priests of the House of Fail public school advocates to point out each and every one as proof that something coercive must be done. They'll be wrong. They always are.
This is a good place to note that I'm leaving Reason as a staffer at the end of this month to devote more time to my son. He's learning in leaps and bounds and, more importantly, enjoying the experience. I want to play a bigger part in encouraging his education, and exposing him to new and cool things without dividing my attention for the demands of an (excellent) full-time job. I'll still write for Reason on a regular basis, and I'm sure that our continuing adventures will be fodder for my contributions.
I could use some of my tax money back for one of those ESAs, too.