Lindsey Graham Running for Prez., SCOTUS Finds Religious Discrimination at A&F, Mitch Fiddling with USA Freedom Act: P.M. Links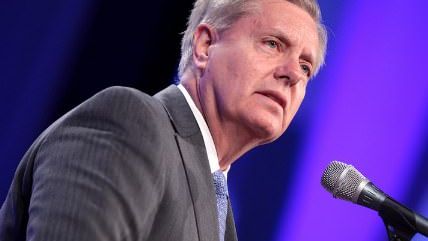 (Gage Skidmore / photo on flickr)
Credit: Gage Skidmore / photo on flickr

Sen. Lindsey Graham (R-S.C.) is running for president, guaranteeing a lock on the pivotal John McCain vote.

Hillary Clinton is also going to announce she's running for president at a launch rally on June 13 in New York City. Except, um, she already announced she's running for president with a video.
The Supreme Court overturned a man's conviction for his violent writings on Facebook, but did it in such a way as to avoid dealing with the underlying First Amendment issues. The court also ruled, 8-1, that Abercrombie & Fitch discriminated against a Muslim applicant for a job because she was wearing a head scarf, and that she didn't need to have asked for an accommodation and have it refused in order to claim discrimination.
Now that Section 215 and a couple of provisions of the PATRIOT Act are expiring, all eyes are on the USA Freedom Act, and Sen. Mitch McConnell (R-Ky.) is working on getting amendments that will likely weaken its power moving forward. And he has blocked Sen. Rand Paul (R-Ky.) from pushing his own amendments forward to make it stronger. But an amended Freedom Act will have to go back through the House, where several members of Congress were concerned it wasn't strong enough already (and many of those who voted against it in the House did so for the same reason as Paul).
Bruce Jenner will henceforth be known as Caitlyn Jenner and posed for the cover of Vanity Fair.
ISIS suicide bombers targeted a police base in the Anbar Province in Iraq and killed dozens. Meanwhile, U.S. forces continue assisting with airstrikes.
It turns out one of the gay hoteliers who hosted Sen. Ted Cruz (R-Texas) actually did give him a $2,700 donation after all, but then asked for it back after news got out about the meeting and the backlash began. He said the donation was because of the senator's support of Israel.
Follow us on Facebook and Twitter, and don't forget to sign up for Reason's daily updates for more content.