Brickbats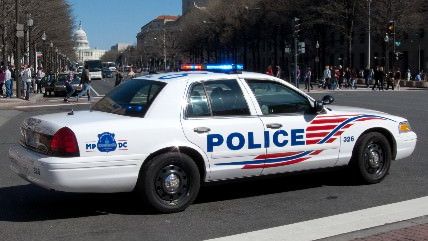 It was bad enough that a man crashed his car into Aaron Shelton's yard. It was even worse when the Hamilton County, Tennessee, sheriff's deputies pursuing the driver tackled Shelton to the ground and beat him with their batons even as he and his wife tried to explain that Shelton was not the man they were looking for—indeed, that he was a fellow deputy. After his coworkers realized their mistake, Shelton says they tried to keep him quiet, telling him they were "all brothers, man."
An officer in Wiltshire, England, told a newsstand owner to give him the names of customers who bought the "survivors" issue of Charlie Hebdo, published after the attack on the publication's offices. The department subsequently said the officer will face no disciplinary measures, but it did apologize and delete the information from its system.
A teacher at Ranson Middle School in Charlotte, North Carolina, forced several students to return home on a cold day without their coats. The teacher took the coats because they did not match the school's required colors.
Charley Cadac is 6 years old. She's 4 feet 2 inches tall and weighs 60 pounds, for which the school nurse at Palm Beach Gardens Elementary School in Florida sent home a letter saying she is overweight. The school system says the letter was part of a state-mandated program to monitor child obesity.
Sweden's resettlement assistants are supposed to help immigrants learn the language, assist them in filling out paperwork, and generally help them fit into Swedish society. The government suspects that many of them instead were recruiting people to fight alongside terrorist groups. The authorities have disbanded the entire network of resettlement assistants.
A teacher at Holmes Middle School in Dallas, Texas, was placed on administrative leave after a student recorded a nearly seven-minute profanity-filled rant he delivered to students. The student's mother initially took it to the school principal, who reportedly asked her to delete the video and "do nothing with it."
Thomas Donovan has filed suit against five Amherst, Massachusetts, police officers for false arrest and violating his civil rights. The officers pepper-sprayed Donovan, knocked his smartphone out of his hand and stomped it, and arrested him after he tried to record them arresting another person.
Staff at a Wisconsin prison strip-searched a female inmate, forced her to perform nude jumping jacks, and then made the still-nude woman urinate into a cup while holding one hand on her head. Officials say they'd heard she kept a small bottle of someone else's urine in her vagina in case of a surprise drug test.
A 911 operator in Anne Arundel County, Maryland, has been reassigned after repeatedly telling a caller to "stop whining." The caller's father and his fiancé had just been struck by a hit-and-run driver, and the father later died.
This article originally appeared in print under the headline "Brickbats".