Who Should Pay to Fix Cracked L.A. Sidewalks? You!
City official suggests pushing cost of city mismanagement on property owners.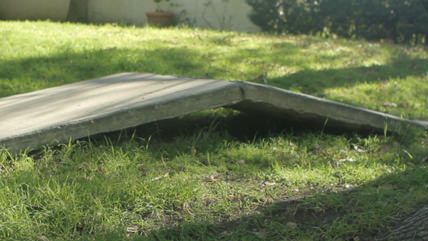 Who's responsible for those cracked sidewalks across Los Angeles? Property owners, says City Administrative Officer Miguel Santana in a new city report that suggests shifting liability and permanent maintenance of sidewalks to residential and commercial property owners. From the Los Angeles Times:
The report by City Administrative Officer Miguel Santana offers the first road map for managing a $1.4-billion, 30-year sidewalk rebuilding program required under a pending settlement of a lawsuit filed by attorneys for the disabled.
The West Los Angeles Chamber of Commerce isn't taking the news lightly. The group's president, Roozbeh Farahanipour, told the Times that local businesses would likely not support the recommendation.
"Because the businesses are paying taxes, they are assuming local government is taking care of their needs," Farahanipour said.
If only that were true. According to the report, the city doesn't even know how many miles of sidewalks exist in L.A., let alone what condition the sidewalks are in:
Previous estimates put the total sidewalk network at more than 10,000 miles, with more than 40% needing repair. There also is no centralized record-keeping on the location or condition of curb ramps.

"Without this information, it will be difficult to measure progress as the city implements its new sidewalk management strategy," the report states.
In 2013, Reason TV looked at a decentralized approach to locating these treacherous sidewalk cracks. At the time, Adrian Moore, vice president of policy at Reason Foundation, said the cracks were indicative of the kind of bureaucracy L.A. has become known for.
"One of the problems bureaucracies have, and LA in particular has, is nobody who manages these departments actually invests the management effort in saying let's be ruthless about prioritizing what's most important," said Moore. For more watch "L.A.'s New Crack Epidemic: Sidewalks":