Rebrand With Rand, Union Strong-Arming Angers Dems, EPA Wants to Sip Your Water: P.M. Links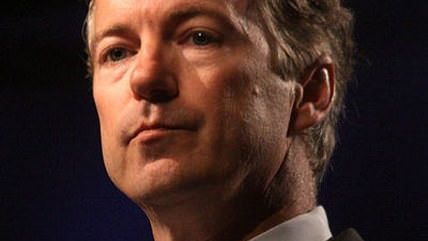 U.S. Senate

Batches of Hillary Clinton's email must be released by the U.S. State Department every 30 days starting next month, says a federal judge. Oh, this should be fun.

Along with criticizing foreign policy hawks, Sen. Rand Paul (R-Ky.) casts himself as a conservationist in the process of pointing out "the Republican brand sucks" and needs to be refurbished.
Republican hawks, for their part, are quite cross with Paul.
The Environmental Protection Agency unveiled rules extending the agency's authority over more of the nation's waterways.
Organized labor's heavy-handed lobbying against the Trans-Pacific Partnership leaves Democrats on the receiving end of threats bent out of shape.
Should they stay or should they go? Britain's government begins work on a referendum over European Union membership.
Greece may have reached a tentative deal with its creditors. Prime Minister Alexis Tspiras swears there's no danger to pensions, salaries, banks, or deposits, so everybody probably should hide a few euros under the mattress.
ISIS hasn't destroyed ruins in Palmyra yet, but the people are less lucky.
Follow Reason on Twitter, and like us on Facebook. You can also get the top stories mailed to you—sign up here.